Blog Post by Abby McDonald
Kids hear everything.
A few days ago I received a reminder of this. Even when we think they're not listening or won't be interested in the conversation, they hear. They pay attention. And yes, they take interest.
In the process of running my mouth to my husband on a phone call I thought was private, I transferred worry. My eight-year-old son who should be thinking about Santa Claus or how he's going to finagle his next piece of candy was worrying about his baby sister instead.
Because I was worrying about his baby sister.
Our fears have a way of spreading, don't they? Like they're contagious. We think we're carrying these burdens by ourselves, as though the weight of them may crush us. And then out of nowhere we see the weight is also being carried by others. Other loved ones. Other friends and members of the church body.
The crazy part though? It isn't being carried in a way that lightens our load. We don't feel any release. They're anxious because we're anxious. Instead of releasing the burden, we hold onto it, unaware of its virus-like effect.
A few days after the phone call with my husband, we put the kids to bed and sunk into the couch, watching mind-numbing TV on Netflix. He told me our son had confided in him about what he'd heard.
"I'm afraid Elise's heart rate will drop, Dadda," he had said.
When my husband asked why he was worried about this, big brother said, "Well, Mama is worried her heart rate will drop, so I'm worried too."
My heart nearly broke.
I realized my son was becoming a mini version of me, fretting about the unknown neither one of us could control.
I thought about all the time I spent racing down endless trails of what-ifs. Now my son was adapting this habit that would only add to the circles under his eyes. The thought of it made me feel a knot in the pit of my stomach, and it wasn't his baby sister.
A few days later, my mind went to 1 Peter and his thoughts on anxiety.
"Cast all your anxiety on him because he cares for you." 1 Peter 5:7 NIV
I'll admit, many times I've heard these words and thought, "What does that even mean?" The command seemed good in theory, but putting it into practice was vague and muddled to me.
But this time as pondered the verse, I thought about what Peter did for a living: fish. He cast his net repeatedly out into the water, hoping for a catch that would sustain.
Then I thought about how heavy those nets must have been. Like all of our problems we carry day after day, and how releasing that net must have felt like releasing the weight of the world.
Peter was a skilled fisherman, but once he released his net he ultimately had no control over the outcome. The fish could come or swim away. They could fill his net or fill someone else's.
Casting our cares carries the same concept.
The cast is the release of control. Instead of fretting and running through endless scenarios in an attempt to micro-manage, we release the problem to God.
All the troubles we carried in our net become God's to bear. The One who was in control all along takes the weight we were never intended to endure.
When I unknowingly cast my worry on my firstborn, he tried to carry it, but his tiny frame was too small. He was never meant to bear its load, so he and I both had to release it to the One who holds the future.
As we cast our nets, we still can't see what lies ahead. But we know baby sister will be just fine.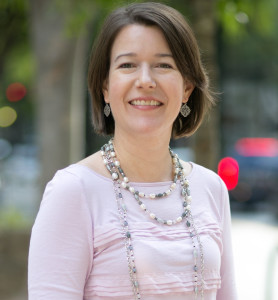 Abby McDonald is a writer who can't contain the lavish love of a God who relentlessly pursues here, even during her darkest times. When she's not chasing her two little boys around, she loves hiking, photography, and consuming copious amounts of coffee with friends.
Abby would love to connect with you on her blog, Twitter, and Facebook.