Blog Post by Abby McDonald
My son's face spelled frustration. He tried to get his classmate's attention as we left the birthday party, but skating rink noise drowned his voice.
After he called her name several times with no response, he gave up.
"It's loud in here, buddy," I said, trying to reassure him.
And it was. I practically ran to get out into the sunshine after two hours of musty air, loud bass and sticky floors. But I also knew he felt defeated.
For better or worse, he inherited my quiet demeanor and his voice doesn't always project. When he has something to say, he's intentional, but his words sometimes get lost on those with a short attention span.
I can relate in more ways than one. All it takes is a few minutes on social media for me to feel overwhelmed by the influx of voices.
"What do I have to say?" I ask myself. "No one is going to miss my words."
There is an article on every topic under the sun. I can find something to make me feel good about neglecting my health, yelling at my kids, and being snippy with my husband. I can find encouragement for any season.
What more does a person need, right?
If we need a good argument to walk off the rink and give up, we don't have to look far. No one will tell you it's easy to be heard in a world where everyone is shouting for attention.
This week I read the through the gospels and do you know one thing I love about Jesus? He noticed those others overlooked. He went out of his way to bring hope to the reject, outcast and the lame. It didn't matter whether others thought he wasting his time.
And do you know what he did for these overlooked people by paying attention to them? He gave them a voice.
He visited the Samaritan woman at the well and gave her words of life, and because he did, she brought truth to an entire village. Many were saved because she didn't keep what she'd learned to herself. It didn't matter whether she had prestige, education or social status.
What mattered was the message she shared.
Many Samaritans from that town believed in him because of the woman's testimony, "He told me all that I ever did." John 4:39 ESV
You may be the exact, one-of-a-kind expression of God's love someone needs today.
It doesn't matter how loud your voice is. What matters is using the one He gave you.
It doesn't matter how much speaking experience you have or how many Bible verses you know. What matters is sharing your own unique story.
No one has the exact same passions, experiences and disposition you do. You are positioned within your community and family to offer something only you can.
A few weeks ago, my firstborn spoke about what he'd learned at cub scouts in front a large group of people. The microphone gave him the extra projection he needed, and he expressed himself with confidence.
Afterwards, the pack leader told my husband how well our son did. He used the tools that were given to him and delivered the message he knew.
And you know what? That's all God asks us to do.
When we step out in faith and trust the unique story he's given us, lives change. Sometimes we just need the right tools and the right moment to do so.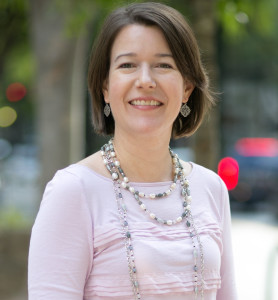 Abby McDonald is a mom, wife and writer who desires to show women that the hope of Christ can be found in the middle of life's messes. She's learning each day to let his lavish love define her instead of the noise of the world. When she's not chasing her two boys around or cuddling their new baby girl, you can find her writing about her passion for a God who relentlessly pursues her, even during her darkest times. Abby would love to connect with you on her blog and her growing Facebook community.