Blog Post by Abby McDonald
"Why are you trying to mimic his sound? Your tone is so much better than his."
My band director's words surprised me. For one, I wasn't aware I was copying my fellow band member's sound. And second, I was also amazed our leader could hear me above the other trumpets in our section.
Even though I was blending with pitch around me, he knew my ability. He didn't want me to imitate, but to shine in my strength.
Sometimes blending is so much easier, isn't it? Whether it's in music or everyday life, we often find ourselves in a culture of sameness. We're bombarded with messages on social media, billboards and ads telling us success looks this way or that way.
Whether it's mimicking a flat pitch or jumping on the latest fashion bandwagon, we can't escape messages about the latest trend. So what do we do? Do we simply give in to the ebb and flow of the culture around us and hope for the best?
For a long time, this is exactly how I lived my life. I was never one to enjoy the spotlight, and having an audience left me searching for the next notes to play.
I thought by hiding behind the loudness of those around me, I was being humble. After all, scripture repeatedly says humility is a strength.
But friends, humility doesn't mean hiding. Our Creator made us wildly more distinctive than the notes on a scale, and he did so on purpose.
God never intended for us to use humility as an excuse to conform.
He created us to be unique on purpose, for a purpose. We are to be salt and light, and our light is meant to shine from the hilltops, not be shoved under a shade because it doesn't look the same as others.
So today, I'm giving you three reasons not to conform. I'm giving you permission to shine in your distinct calling and gifts, no matter what they are.
Our uniqueness is a reflection of God. By being ourselves, we are glorifying our Creator. We are putting his work on display for others to see. (1 Pet. 2:9)
Filling our place in his Kingdom brings unity. Somewhere along the way, we've bought into the notion that unity means conformity. But it doesn't. It means using the strengths we're given to form one complete body, the Church. (1 Cor. 12:4)
The only one who can fulfill your purpose is you. We often fall into the trap of thinking someone else will say it or do it if we don't. But God's calling on our lives is not the same as anyone else's. He created us for such a place and time as this, and his plans for us are part of a grander story. (Eph. 2:10)
Friends, breaking the mold isn't easy. Often, we will feel awkward and misunderstood when we pursue the path God has laid out for us.
But can I tell you something? It is worth it. When we fall into the unique rhythm God created us to for, there is nothing like it.
Get all Purposeful Faith blog posts by email – click here.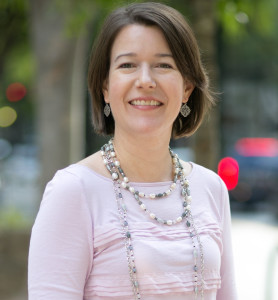 Abby McDonald is a writer who can't contain the lavish love of a God who relentlessly pursues her, even during her darkest times. When she's not chasing her two little boys around, she loves hiking, photography, and consuming copious amounts of coffee with friends.
Abby would love to connect with you on her blog, Twitter, and Facebook.