I'll get to the fun video from me in a minute, but before we get there, I want you to know…
When you pray the Word of God over your life, there is nothing more powerful. The Word of God is like a hammer that breaks down hindrances, barriers and blockades in your life, soul and thinking (Jer. 23:29). Not only that, but the Word of God is like a fire. It consumes impurities within you.
Praying the Word of God is life-transforming. When you pray it over your life, it makes your mind to be opened to truth, your ears to be attuned to God, your eyes to see what He wants to show you and your heart soft.
Lately, I have been praying for wisdom and understanding. Paul prayed this for the Ephesian church. After praying this prayer, I am seeing direct understanding come to me in such a way that my husband noted, "Wow, Kelly, that is wisdom. You are not usually that wise."
I agree. I am not that wise on my own. Oh, but the Name of Jesus!!!!
Praying the Word works.
When I pray scripture over myself, I know I am praying the very heart of God. Even more, I know He wills to answer me! I absolutely, beyond a shadow of a doubt, know I receive what I pray for. Why? Because, He is faithful to His Word to perform it. I just prayed the Word!
Here are a few power prayers that you too can pray (just insert "I" or "me" in these verses:
"And I pray this, that your love may abound even more and more in knowledge and every kind of insight so that you can decide what is best, and thus be sincere and blameless for the day of Christ, filled with the fruit of righteousness that comes through Jesus Christ to the glory and praise of God." (Phil. 1:9-11)
"I pray that the God of our Lord Jesus Christ, the Father of glory, may give you spiritual wisdom and revelation in your growing knowledge of him–since the eyes of your heart have been enlightened–so that you may know what is the hope of his calling, what is the wealth of his glorious inheritance in the saints, and what is the incomparable greatness of his power toward us who believe…"(Eph. 1:17-19)
"I pray that according to the wealth of his glory [the Father] may grant you to be strengthened with power through his Spirit in the inner person, that Christ may dwell in your hearts through faith, so that, because you have been rooted and grounded in love, you may be able to comprehend with all the saints what is the breadth and length and height and depth, and thus to know the love of Christ that surpasses knowledge, so that you may be filled up to all the fullness of God." (Eph. 3:16-19)
There is also great wisdom in praying the promises and prayers of the Psalms. David was not afraid to cry out emotionally. Yet still, he always returned himself back to God's love and ultimate truth. His way of praying and praising showcases a model of heart-devotion.
Things aren't always easy, but God remains good!
On a separate note, here is a video message — from me to you!
We will be meeting for the "What's My Calling Workshop" tonight (Thursday, Feb. 19th) at 7 PM via Zoom. If you can't attend live, you can still sign up to receive the recorded version!
About the "What is My Calling" Workshop

During the "What is My Calling?" workshop, you will:
1. Discover the biblical power of living out your calling.
2. Gain understanding about God's will for decisions or for your life.
3. Identify your calling or God's direction in your life.
4. Solidify your calling and next steps or gain wisdom for hard life situations.
5. Propel forward through the power of prayer.
6. Find potential accountability partners to keep in touch with.
7. Collaborate and find support in a breakout group.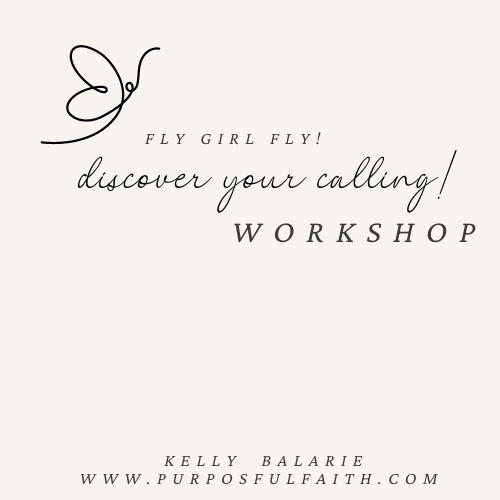 "What is My Calling?" Workshop
Thursday, Feb 9, 2023 from 7:00 PM ET - 9:00 PM ET via zoom.
**recorded version available.
***Plus: A personal encouragement email from me! I will be praying to ask God to give me a unique verse and a prayer for each of you. I pray this blesses you immensely on your way!
Prayer: Father, thank you for your love for me. Thank you for your purposes for my life. I want to serve you, love you, and honor you with all my heart for all my life. I am so thankful for what Jesus did for me. I am blessed to be your child. In Jesus' name. Amen.
**Subscribe for all Purposeful Faith blog posts by email – click here.