Last week my husband and I directed Vacation Bible School (VBS) for our church. The theme was "Ocean Commotion" and there was a lot of commotion in our home as we prepared for this program. I decided to wear my loud LuLaRoe leggings—yellow, turquoise, brown, and orange splattered, a bold flowing top, and my feather earrings to help support the theme.
There was so much to do to prepare for opening night of VBS. When I feel stressed, I bark out orders to the family, expecting them to hop-to and meet my demands. It isn't pretty.
As I walked down our hallway, I informed Sunshine-headed son that he better start emptying the dishwasher. Usually this reminder is met with resistance and sighing but this time was different.
"You look beautiful, Mom!" my son declared with enthusiasm.
I had wondered if my outfit was a bit much, but my son's unexpected compliment reassured me that I had made the right wardrobe selection. I smiled and my countenance lifted.
Later on, as we were frantically getting ready to head to the church to decorate for VBS, I told my daughter to go get her toddler brother's shoes on so we could get out the door and "Hurry up, we need to leave soon!"
"Mom, I love your outfit. You look beautiful!" she cooed.
Once again I was stopped in my tracks. Darling daughter's words of affirmation gave me a burst of joy. Her adoration transformed my frustrated tone, if but momentarily, as I held my head a little higher.
My kids were being so nice to me when I was being bossy.
Then I heard my tween daughter whisper to my husband, "When Mom is in a bad mood, we decided to give her a compliment and tell her that she looks beautiful."
"Hey, I heard that! " I called out from the bathroom.
So, that's why they were bathing me with compliments. They were trying to transform my irritation and see if that would help me get off their backs about cleaning and doing chores.
It was working.
They turned ugly to lovely by responding in love to my meanness. Okay, they were being a bit manipulative and trying to get out of work, but their experimental tactic was quite genius.
With each compliment, I felt uplifted. My demeanor changed as they met my demands with a verbal blessing.
Instead of feeling overwhelmed by all there was to get done, I was overwhelmed with gratitude that they were being so nice. They heaped burning coals of love upon my head as they issued the unexpected.
My kids social experiment convicted me of my negativity and also inspired me to try it out.
What if I respond kindly to others when they are mean instead of pouting about it?
What if I issue grace instead of offense when I get my feelings hurt?
What if I compliment those I'm frustrated with instead of complaining to their face
(or behind their back)?
Could it be that we can transform ugly to lovely by reminding others of the beauty we see in them?
Let's give it a try.
"Death and life are in the power of the tongue…" -Proverbs 18:21
Dear God:
Thank You for saving us from sin. Thank You for dying on the cross and then rising again, that we might live for Your purposes, now and in the life to come. Thank You for taking what is broken and making it beautiful. Thank You for transforming our ugly into lovely. Forgive us for hurting others with careless words. Help us to reflect Your unconditional love with the way we respond to others. May we care for others with the strength You provide, by the leading of Your Spirit, and out of our commitment to doing things Your way—even when it's hard. Thank You for Your Word and that we can be transformed by it. Give us a desire to know and apply Your Truth, that we might truly live—radiant and free.
In Jesus' Name, Amen.
Get all Purposeful Faith blog posts by email – click here.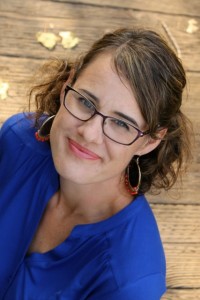 Katie M. Reid is a tightly wound woman, of the recovering perfectionist variety, who fumbles to receive and extend grace in everyday moments. She delights in her hubby, five children, and their life in ministry. Through her writing, singing, speaking and photography Katie encourages others to find grace in the unraveling of life.
Connect with Katie at katiemreid.com and on Twitter and Facebook.