Blog Post by Abby McDonald
I remember watching my firstborn get his first taste of rejection. He was about two at the time, and he leaned in to give his older female playmate a kiss.
On the mouth.
She looked at him, wide-eyed and a little mortified, and backed away. I couldn't help but chuckle but my sweet toddler took it in stride. He knew he was cute, and her lack of interest didn't stifle his confidence.
We kiss in our family. We show unrestrained love. But I know that once we go outside the walls of this home, those unstated rules of conduct change. My two-year-old didn't know these rules but at that age, who does?
As he's gotten older, the tide has shifted. Rejection hurts. I remember the first time he cried after a spat with a friend who said, "I'm not your friend anymore." I've seen kids come in and out of his life, sometimes later to return.
He's usually able to roll with the stings and the snubs, but he's not bulletproof. And I don't want him to be. As much as I'd love to see him never cry, get hurt or given a cold shoulder from a friend, I know he has to experience these things to truly live.
A week ago I sat at my computer reading a rejection email from an online publisher and I realized the prick of "no" may change in nature, but the pain doesn't.
When we see the pictures of the get-together we weren't invited to plastered on Facebook, we may feel like we're in our high school skin all over again.
When we extend the invite to the new acquaintance from church and are repeatedly shunned, we may wonder why we even bother.
We may feel like crawling into a hole with our popcorn and Netflix marathons so that we never have to feel the ache of another "no," another denial, another wave of apathy and disregard.
But can I tell you something? The blessing is worth it. The "yes" is worth it. When you don't think you can extend yourself one more time, remember this.
 We serve a God who was rejected in the most brutal, public way. He did it for you. For me. He did it so we could experience life and love and yes, pain. He never rejoices in our pain but he knows it's sometimes necessary for us to grow.
But we can't live if we're constantly trying to protect ourselves. We can't live if we let fear of pain and rejection rule our lives.
For over a year of my life, I stared at what I thought was a closed door. I counted cracks in the ceiling, and our recliner and a good book became my best friends.
I was tired of trying to make friends. I was tired of the blank stares.
Since I didn't have anyone else to talk to, I talked to God. He hears us, you know. And he's the always the best person to talk to. The first and the last.
After months of staring at ceiling cracks, I wasn't sure God heard me. Silly, right? But then, I made a connection. And then another and another.
I discovered community, life and purpose. I discovered friendship, yeses and open hands.
Keeping our hands open isn't always easy, but it is always worth it. When we make those kindred connections and see those invitations extended, it's worth the "no's," the stings and the heartache.
The next time you're rejected, remember the promise of the One who was rejected most of all. He will never leave you. He will never forsake you. (Hebrews 13:5). And he's working and listening, even when we don't see it.
Keep your hands and your doors open, friends. You never know what God may have for you on the other side.
Get all Purposeful Faith blog posts by email – click here.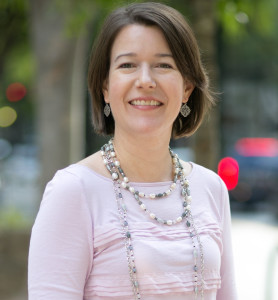 Abby McDonald is a writer who can't contain the lavish love of a God who relentlessly pursues here, even during her darkest times. When she's not chasing her two little boys around, she loves hiking, photography, and consuming copious amounts of coffee with friends.
Abby would love to connect with you on her blog, Twitter, and Facebook.