Post by: Christine Hoover
In winter, I spend an inordinate amount of time holed up in my home under a blanket, guzzling hot coffee, and longing for spring's arrival. It's not my favorite season, but favorite or not, winter is important. Despite what we see with our eyes, the earth in winter is busy creating life. We only know this is so because spring eventually comes, and then we marvel at what that life looks like.
Is it possible that God designed winter and the earthly cycle of life, death, and renewal in order to speak a deeper truth? I believe, because the Bible says it's so, that everything in creation is designed speech about its Creator. Just as we find him on warm summer days, standing in the sand, listening to the waves crash against the shore, we find him in the stillness of winter.
Winter, however, often speaks of a barrenness we don't want to hear about.
Annie Dillard writes, "All that summer conceals, winter reveals." And so we need a life with winters, because we need our hearts revealed. Winter comes to strip us bare of our delusions, to make us face reality: we have imperfections that we can't perfect. We are helpless to find a formula to reason or act our way out of our helplessness. We are human, and we, in our barrenness, must be acted upon if we're to experience eternal life, joy, and the supernatural.
Winter then, after stripping us bare, points us to the invisible motion as if in invitation to these very things: life is happening. God is at work, acting upon us.
The harshness of our waiting winter tells us that this world has nothing for us and that we have nothing for ourselves. We have this hope–one, and only one–that there is life waiting for us beyond death.
Although we are not yet in that world, we have reasons for our hope: the words of God. With words, he formed the earth and its seasons and cycles. With words, he continues creating. We can trust his words. In our winter, we must draw ourselves under the warm blanket of God's promises, a sure comfort in the darkest of hours.
This is what God did with the prophet Jeremiah:
"And the word of the Lord came to me, saying, 'Jeremiah, what do you see? And I said, 'I see an almond branch.' Then the Lord said to me, 'You have seen well, for I am watching over my word to perform it.'" (1:11)
In Jerusalem, the almond tree, the first to bud in the spring, was said to "watch for spring." God used the almond branch to comfort Jeremiah in his lamentable circumstances. The almond branch was a reminder that God is always in process of keeping his promises, that he is, at this very moment, hurtling all of us toward eternal spring. He pointed to the almond branch—the coming of spring—and told Jeremiah to watch and wait.
We too watch and wait, not in fear of this winter in which we live, nor in fear of our own spiritual poverty or even final death. We watch and wait, comforted, because all of this God is right now working for our true life, when winter will forever turn to spring.
—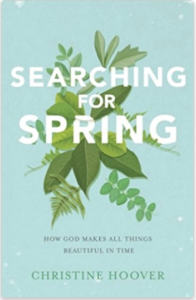 Christine Hoover is a Bible teacher and the author of several books, including Messy Beautiful Friendship. Her latest book, Searching For Spring: How God Makes All Things Beautiful in Time, frames the life of faith according to the seasons and according to Ecclesiastes 3:11: "God has made everything beautiful in its time." Searching for spring is really a search for God's redemptive work, where suffering and death become fruitful life. Christine invites readers like you, who may be weary and withering, to join her on a treasure hunt for beauty in both familiar and unexpected places.
Loading InLinkz ...