For years, I didn't realize I viewed God through a lens distorted by lies and half-truths. I lived as though he withheld something from me, and spent my days trying to measure up to some invisible standard.
I was kicked out of a private Christian school during my senior year, and I adopted the belief that God wasn't happy with me unless I followed a rigid set of rules. Since I knew there was no way I could possibly measure up, I broke the rules instead of trying to follow them. I didn't see how tired and angry I was toward God and the church until years later, when God removed me from everything familiar.
To shift our perspective, God often takes us out of the place where we're comfortable.
This is what he did with me as a newlywed, when my husband and I moved over two thousand miles away from my hometown. The reason we saw was a job opportunity, but God's reasons were quite different. He wanted to transform my thinking, and he knew a drastic life change would push me to seek him like never before.
For months after the move, I faced culture shock. The area of Utah where we lived was beautiful, with snow-capped mountains and an endless skyline. But the predominant beliefs were different than the "Bible Belt" area where I grew up. The stark contrasts forced me to ask myself, "What do I believe? Who is God, anyway, and what does he want from me?" When I discovered we were expecting our first child, my determination to find a firm foundation and belief system became even more crucial.
In the four years we lived on the Wasatch Front, I discovered many things I didn't expect about God. He led me to books, friends, and a home church where I became grounded in truth.
But there's one truth that continues to transform me today as I discover its vastness: God wants my joy.
As a matter of fact, before his brutal death, he prayed for each of us to experience it. Full and without measure. Not was the world perceives it- as the result of something we do or achieve, but a direct fruit of his Spirit in us.
"I am coming to you now, but I say these things while I am still in the world, so that they may have the full measure of my joy within them." John 17:13 NIV
If we think God is withholding something from us, our actions will reflect it, and its effects will cascade into every aspect of our lives. But if we view him through the lens of his grace, we will experience joy and peace. Every good thing we have is because of him. He doesn't want our perfection, but our love and trust. This is what transforms lives, not endless to-do lists.
Instead of asking, "What is God withholding from me," we can ask, "What has he given me?"
Rather than clench our hands with worry, we can open them with confidence that he'll act out of his love and goodness.
When I became honest with myself after years of running from God, I realized I made a lot of poor choices in my early adult life. But God, being rich in mercy, protected me from a life of regret. My bitterness over addiction and codependency in my family turned to prayers for their release from bondage. My thinking shifted from being me-centered to others-centered.
God is still working on me, and he won't be finished until his return. But as his Spirit continues to transform my thinking, my view of him is clearer.
Each day he shows me see that we don't have to wait until we're fully transformed or perfect to witness his hand. We can see it right here.
Sometimes, we just have to adjust our lens and change the way we look for God. We have to alter the ways we view him and uncover lies we believe. This is the journey I invite you to take with me. Will you join me?
_____________________________________________________________________________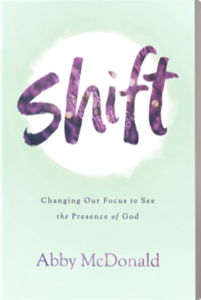 Is there an area of your life where you want to see God, but can't? Perhaps you had a clear sense of his purpose and will in your life at the begi
nning of your journey with him, but it's become blurred and foggy.
If that person is you, I wrote my new book, Shift: Changing Our Focus to See the Presence of God, for you. What I discovered is that we don't have to wait until we're on the othe
r side of the struggle or mess to see God. But if we want to see him, we have to change the way we look for him. Let's do this in 2020.
If you preorder Shift today, you will receive several freebies, including a gorgeous "Forward-Moving Faith" printable and the first three chapters for immediate download. You can order right here, and claim your freebies here!
About the Author: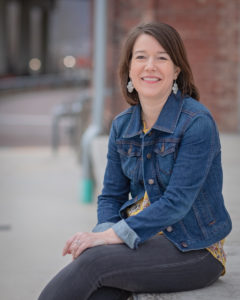 Abby McDonald is also a writer, speaker, wife, and mom whose work has been featured on Proverbs 31 Ministries, (in)Courage, Crosswalk, and more. Her passion is to empower women to grow in faith and hope, even when life is messy. She earned a BA in English from the University of South Carolina and teaches writing workshops both online and at conferences each year. Abby lives with her husband, three children, and mischievous lab pup in the mountains of western Maryland. You can download "The Daughter's Manifesto" as her free gift to you and connect with her at abbymcdonald.org.