Blog Post by Abby McDonald
"I am going to die."
That's what I kept telling myself on repeat as I talked to the OBGYN nurse over the phone. I tried to catch my breath but the tightness in my chest made it difficult to breathe.
"Don't try to come here," the she said. "Just go straight to the E.R. Tell them you just had a c-section."
All my symptoms pointed to a pulmonary embolism, which could be fatal. I sat there in shock, rocking my newborn while I fed him and wondering what to do. Take him with me? Finish feeding him?
My mother-in-law and husband were the only source of calm in the room. I looked at them both, searching for answers to questions I didn't feel capable of asking.
"Finish feeding the baby and we will take him. I will send Larry out for formula," my mother-in-law said. The evenness in her voice steadied me for a moment. She didn't seem worried. Perhaps things were going to be okay.
A Love that Casts Out Fear
When I look back this moment when my firstborn was just days old, I see a person who was wrecked by fear. It was one of the scariest times of my life. All I could tell myself was to keep breathing in and out, from one second to the next.
I didn't have a pulmonary embolism, but anxiety and side efforts from some medication I was taking contributed to my symptoms. Within a couple of days, the chest pains and shortness of breath passed, but the lessons I learned after those few hours in the E.R. would play out for years.
Sometimes God allows us to face our greatest fears so we see that there is no fear greater than his love.
Most of us would be afraid if someone told us we could be about to die. It's the second most common phobia, with the first being public speaking. But what about those of us who live life scared, all the time? Scared of what people will think, scared to take that step of faith into the unknown, or scared to reach out to someone who may reject us?
For a large chapter of my life, this was my every day. I was terrified to truly live because I thought if I did, I would mess things up. What would I mess up? Anything that mattered. Relationships, career, kids, you name it. God's grace was a gift I couldn't fathom or recognize.
In the year following my experience at the E.R., God captured my heart in a way I can't explain. A latticework of events that included a friend reaching out, a book I read at the right time, and many others all combined to reach my tired soul. Day by day, I realized: God's love will drown my fear, if I let it.
For years, I read the following verse and thought I understood it, but didn't.
"There is no fear in love. But perfect love casts out fear, because fear has to do with punishment. The one who fears has not been made perfect in love." 1 John 4:18 NIV
I thought, "Well, that sounds nice. God loves me and watches over me. I need not fear." And this is true, but then it hit me. If I'm living as though the words of this scripture are true, I must not only accept his love, but live in it.
When I live in God's love, I know nothing I can do will separate me from him. I know other's rejection of me doesn't matter because he will never reject me, once I've declared my devotion to him.
Living in his love means I can walk forward without fear because I know even if trials, discomfort or tragedy lies ahead, he will be with me.
The trials are not punishment, but an opportunity for me to grow in his love even more. They're when I declare his truth over me- that his presence goes before me, beside me, and has my back.
Living in his love means I can love others even if they don't reciprocate, because the love Christ gives me is sufficient, complete, and unconditional.
Friends, his love changes everything. But for it to take a radical effect on our lives, we must not only say we believe it, but mean it in our core. A love like this captures every aspect of existence and makes us view it differently.
Fear looks at a trial or struggle and says, "How can this be happening to me?"
Love looks at it and says, "What can God teach me through this?"
How are we going to respond today? I'm still a work in progress and am far from having this whole thing figured out. But I'm learning.
I grew up singing "Jesus Loves Me," but it's taken me half my life to believe it and become fully alive because it's true. I don't know about you, but I don't want to go back. I want to sing it with its truth in my bones.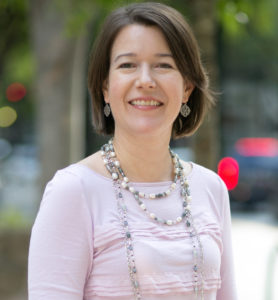 Abby McDonald is the mom of three, a wife and writer whose hope is show readers their identity is found in Christ alone, not the noise of the world. When she's not chasing their two boys or cuddling their newest sweet girl, you can find her drinking copious amounts of coffee while writing about her adventures on her blog. Abby would love to connect with you on her blog and her growing Facebook community.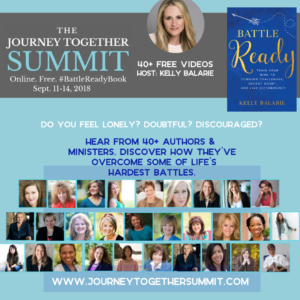 You're invited! Don't miss The Journey Together Summit. 40+ Christian Authors and Women's Ministers will talk about their battles and how they overcame them. Learn how to stand strong, faithful and to trust in God, no matter what you face. See the full agenda here: www.journeytogethersummit.com