Blog Post by Abby McDonald
I used to approach friendship with a long list of expectations. Things I thought a friend should do. A space I thought my friend should fill.
Instead of extending grace, I was disappointed when friends didn't follow through with what they said they'd do. I didn't care whether they had kids and or whether the unexpected happened.
All I saw was my set of rules.
"A true friend wouldn't do that."
"If she was your friend, she would keep her word."
What's even sadder is I approached my relationship with God the same way. Instead of coming to the throne of grace wanting to know him, I came with my expectations.
But my expectations weren't based on promises in his Word. They were based on my notions of what he should be and what he should do for me.
"If he is God, he will answer this prayer."
"He didn't answer this prayer, so he must not care about me."
All this time I walked around feeling lonely and defeated, God still loved me. He still heard my prayers and you know what? He still answered them.
He just didn't answer them in the way I wanted or expected. During a season, I didn't see his hand at all because I was so razor focused on certain details of my life.
When we try to create our own personal Jesus, we will fail every time. Because God is not a god of our creation. He is infinite, going far beyond our limited minds.
But what's amazing is we can have a relationship with him. When we want more of him, he meets us where we are. He gives us his Word as a living tool to guide us and show us his heart. Take the story about Mary and Martha, for example.
Most of us know this story, and Martha often gets a bad rap. This pains me, because what Martha did wasn't wrong. Serving God and wanting help was not the issue.
The problem was instead of expecting Jesus to be God, Martha expected Jesus to do what she wanted. She came with her expectations and preconceived ideas of what a Messiah who cared would do. When he didn't meet her expectations, she was disappointed.
Lord, do you not care that my sister has left me to serve alone?

Luke 10:40 ESV
In other words, "Lord if you cared you would not let her leave me here."
And Jesus corrects her not out of condemnation, but out of love. He says Mary chose what was more important. Mary chose knowing him.
Friends, we will always have expectations. It's how our brains are wired and God knows this.
But freedom comes when we're willing to hold loosely to our expectations and come to him in surrender. When we say, "God, I may not understand what you're doing but I trust that you love me anyway."
When we let go of our notions of who we think God should be, we can know him for who he truly is.
He is faithful to give us glimpses of his character and love. He shows us his ways and his plans and gives us hope.
Let's lay our aside our expectations today and come to him with open hands.
Let's have faith in what we don't see, and bring glory to the One who sees us.
 Get all Purposeful Faith blog posts by email – click here.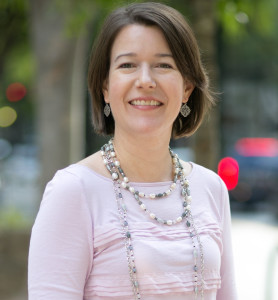 Abby McDonald is the mom of three, a wife and writer whose hope is show readers their identity is found in Christ alone, not the noise of the world. When she's not chasing their two boys or cuddling their newest sweet girl, you can find her drinking copious amounts of coffee while writing about her adventures on her blog. Abby would love to connect with you on her blog and her growing Facebook community.