Post By: Katie M. Reid
My dad said that if I got a tattoo or was a cheerleader he wouldn't pay for college.
Years after I graduated, I almost caved and got a tattoo, but backed out at the last minute. It was going to say something like, "Follow the Way of Love".
I didn't exactly avoid the cheerleading thing though—cheering for others is something that naturally springs forth from within.
No, I don't cheer on the sidelines for sporting events—except when our kids are playing soccer, then my husband and I are completely obnoxious and embarrassing, we're so competitive!
But I do cheer for others as they pursue their dreams. I love to inspire others to take the next steps and to jump higher. I enjoy celebrating like a fool when a writing friend gets a book deal or a speaking friend gets an invitation to a national conference.
I am genuinely happy for my friends when they succeed, and I would do a back handspring for them, if I could—I tried to master one in gymnastics but never did get the hang of it.
But here's the thing, when I see others sailing through the air—reaching new heights—it's easy to feel left behind, grounded and insecure.
Recently, I confided in a few friends about how I was feeling as I saw others soar. It was embarrassing to admit that I was having a 38 year old temper tantrum—this first-born over-achiever doesn't like to be left-out or passed by.
One of these friends prayed that God would give me clarity in my mission so that, regardless of what others are doing, I will feel peace pursuing the things that He has put in my heart (thanks Kelly!).
So I prayed this prayer. And you know what I felt like He said? Help others be successful.
I'm not going to lie, this was not really what I wanted to hear! It was, and is, such a pride-buster to my striving and driving self.
And maybe that's exactly the point.
God knows what I need and that truly, deep down, I want to be more like Him than be liked by the masses—it's buried down deep in there somewhere.
I read this the other day and it hit home, right in the epicenter of my success-driven self,
"Do I want to make a difference or do I want to be famous?" -Kimberly D. Henderson
That'll shut you up—or at least me up—as it speaks to the heart of the matter.
Do I want to climb the ladder or am I willing to hold the ladder for others?
Do I want the accolades, the fame and the win, or will I stoop, support and assist in order to hoist others to the heights that He has prepared for them?
Are you sure God? So basically You want me to be a cheerleader, so that others have a greater chance at V-I-C-T-O-R-Y? This is hard on my pride God, but I trust that You know what is best. And, thank You, for wiring me to cheer and come alongside others. It hurts sometimes as I'm stretched and bruised but it is a privilege. Forgive my unbecoming greed for gain and help me to be committed to holding the ladder so that others can climb.
Follow the way of love. I didn't tattoo it on my foot, but He wants to write it on my heart and help me walk it out.
Jesus stooped down—from His royal throne—to come to earth and be the ladder between us and God.
Jesus made a way for us by serving, sacrificing and surrendering so that we could be restored to a right relationship with Father God, if we choose to believe and make Him Lord.
He offered Himself—holding nothing back—out of Love for us.
Oh, how I fall short of this kind of love.
May we make Jesus famous in our lives as we bend to exalt Him.
May we trust Him with our dreams and let His Spirit lead each step of the way.
May we care more about connecting with Jesus and being known by Him than we are about gaining connections to be known by others.
May we celebrate well when God brings others success—and maybe even learn how to do a back-handspring too.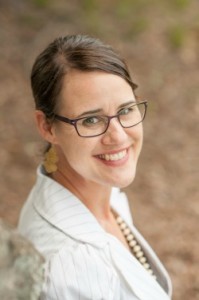 Katie M. Reid is a tightly wound woman, of the recovering perfectionist variety, who fumbles to receive and extend grace in everyday moments. She delights in her hubby, four children and their life in ministry. Through her writing, singing, speaking and photography she encourages others to find grace in the unraveling of life. Connect with Katie at katiemreid.com
Get all Purposeful Faith blog posts by email – click here.