Blog Post by Abby McDonald
Outsider.
I let this term define me for far too long. As a teenager, I always felt on the outside of the popular crowd at school. When I became a young adult, shyness and nerves prevented me from venturing out and making new friends.
When we wear a label long enough, it becomes comfortable. It's like a thick skin of protection and we start to like it. Even when our circumstances change and our beliefs about life and eternity are rocked, those names we give ourselves are hard to get rid of. They stick like residue, not wanting to come off.
After becoming a follower of Christ, I received new names.
Daughter. Beloved. Child of the one true God. It all sounded wonderful and good and intriguing. But I still felt like an outsider. I fought to grasp something that seemed perpetually out of my reach. If I could only grab hold of it, I would truly be free.
What whatever it was, it continued to elude me. Like a drive through the heavy fog that obscures our mountaintop in the morning, my vision was obscured. I kept striving and wanting something more.
One morning I was in the thick of a women's Bible study, and the author was talking about anger. She asked the reader to list the things she thought she was entitled to. Her rights. And I'm not talking about our rights as citizens of a country, but the things we think we deserve because we walk this planet.
At first, I struggled through it.
"I'm not an angry person," I reasoned. I love others.
"But do you feel loved in return?"
It was a gentle question. A nudge in my spirit. If I'd rushed ahead to the next activity, I would've missed it.
The longer I sat in the quietness of a Father's compassion, the more I realized what I chased.
I ran after ways I thought I deserved to be loved by others, but wasn't. I longed to be understood and truly seen, but felt often felt lacking in both.
Friends, we can learn others' love language and go to endless relationship experts and counselors. But in the end, there's only One who will love us the way we truly desire.
Our feelings will change with the weather, but his love is constant and unwavering.
He's the One who created us. The One who knows us inside and out, who can see our thoughts before we form them.
We are never outside his love. He invites us inside, to feel the closeness of his Spirit and the breath of his adoration.
"In Love he predestined us for adoption to sonship through Jesus Christ, in accordance with his pleasure and will" Ephesians‬ ‭1:4,5‬ ‭NIV‬‬
We are inside his eternal family.
We are in the depths of his unconditional love.
He drenches us with his endless, undeserved grace.
When I spend time in his presence, I realize I'm loved in ways I dare to dream about. The more I grow to know him, the more I see that I'm not an outsider.
And neither are you.
In Him we belong. In Him, we are complete.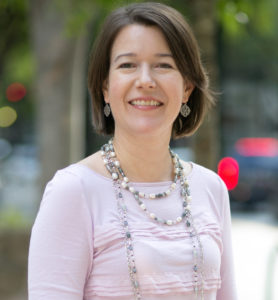 Abby McDonald is the mom of three, a wife and writer whose hope is show readers their identity is found in Christ alone, not the noise of the world. When she's not chasing their two boys or cuddling their newest sweet girl, you can find her drinking copious amounts of coffee while writing about her adventures on her blog. Abby would love to connect with you on her blog and her growing Facebook community.