Blog Post by Abby McDonald
My love for an audience began with unexpected heartbreak at nine years old.
I sat on a piano bench in auditorium filled with people who watched with anticipation. Although nerves were palpable, I played the beginning of the piece with confidence. The practiced rhythm in my fingers was instinctual.
Until it wasn't.
In a moment of confusion, I did the unthinkable. I thought about the next phrase of music. Rather than trust my fingers to remember the notes, my mind raced ahead.
My sigh was audible to everyone sitting in the audience. Hundreds of eyes stared and after what seemed like an eternity, I proceeded the only way I knew how. I played the next section I remembered, bowed, and hurried off the stage.
At the time, I wasn't sure how I survived, but I was sure of this: it the worst day of my life.
Isn't it funny how even when our experiences on stage leave scars, we often desire more? Whether it's in front of hundreds of people or in a small group, we have this innate desire to be seen. We want to know our work is valued, and when we don't receive affirmation we often become discouraged.
That night on the stage so many decades ago, I was recognized. It may not have been in the way I desired, but the hour following the performance was filled with affirmation from total strangers.
"You handled that situation so well," one person said.
"It could happen to anyone. You should be proud of how you responded."
With each word of encouragement, the sting of disappointment hurt a little less. And whether the performance went the way I anticipated or not, I was sure of this: these people saw me, flaws and all, and they applauded me for it.
This audience satisfied one of our deepest human desires: to be seen and valued.
The problem is, many of us spend our entire lives looking for this acknowledgement in the wrong places. We wonder why we are never satisfied, waiting for the next "like" on social media, nod of approval from a friend, or accolade from the workplace.
This is what I spent most of my life doing. When my friends and family complimented my strengths and work, I felt like a conqueror. But when I wasn't acknowledged for my efforts, I sank into depression and questioned my worth.
Once I got married, had my first child and stopped working, I reached a crossroads. I could either spend my entire life on an endless ride of highs and lows, or I could discover who I truly was.
What I didn't realize at the time is that we will never fully know who we are until we know who God is. I spent years trying to "find myself," but I didn't know my Savior.
When we begin with God, everything else falls into place. When we begin with ourselves, we roam in circles.
"I have been crucified with Christ. It is no longer I who live, but Christ lives in me."

Galatians 2:20 NIV
"I no longer live," Paul says. His entire life was dedicated to glorifying the One who stopped him on the road to Damascus and changed his life forever. Though we are still moved by his faith today, his mission was never about his glory. It was about magnifying the name of the one who saved him from a life of aimlessness.
I'll never forget the evening in early November when I sat on the couch reading, The Purpose Driven Life with my husband. We were reading the opening chapter, which is aptly titled, "It's Not About You."
I realized my entire life had not been about my Creator, but about me. And in making everything about me, I had missed my purpose entirely.
There is freedom in knowing this life is not about us.
Do you know why? What the world gives, it can also take away. All of the praise, the fame and celebration can disappear faster than we can click "like" on Facebook.
But what God gives is eternal. And they way he sees us? It is complete. He sees beyond our insecurities and into our hearts.
Once we make Him the center of our lives, we gain purpose. His Word and character do not change like the trends on Twitter. We can trust Him and know if we humble ourselves before Him, He will exalt us.
"Humble yourselves, therefore, under God's mighty hand, that he may lift you up in due time."

1 Peter 5:6 NIV
When the Lord exalts us, he is exalting a reflection of himself and his Spirit in us. And friend, there is nothing more spectacular than that.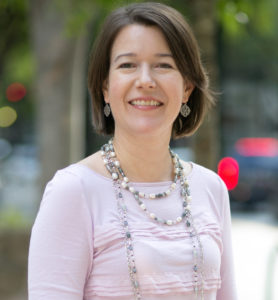 Abby McDonald is the mom of three, a wife and writer whose hope is show readers their identity is found in Christ alone, not the noise of the world. When she's not chasing their two boys or cuddling their newest sweet girl, you can find her drinking copious amounts of coffee while writing about her adventures on her blog. Abby would love to connect with you on her blog and her growing Facebook community.