Blog Post by Abby McDonald
Flashing lights showed in our rear-view mirror and my husband pulled right, allowing the ambulance to pass. It turned on the street leading up to our house.
"Oh, Don. What did you do now?" my husband said in an exasperated tone.
He seemed certain the ambulance was headed toward our neighbor's house. The middle-aged man's health was deteriorating, and those lights were appearing next door more and more often.
"It could be someone else. There's lots of homes in that direction," I said.
It was true, but I wasn't confident. Silently, I prayed for our neighbor's safety.
But the further we drove, the more fleeting my hopes became. We arrived home and the paramedics drove past our house, parking in front of our neighbor's. As we observed them from our driveway, we could tell they were familiar with our friend's case. Frequent caller, nuisance, guy who uses first responders as a taxi service.
There weren't many in our area who cared about this guy. He was single with no kids, quirky and odd. But months after following the ambulance to his house, my husband took him to Bible study. Despite previous invitations that were ignored or turned down, he went several times.
After his dad passed, we invited him to dinner. To be honest, I felt uncomfortable by some of his habits. But I held my tongue and he came to our home again a few weeks later.
I was sure God was paving the way for a change in this man's life. We sensed his heart shifting and opening. And while it was just enough to shine a tiny light through, it was something.
But then, there was another shift. Another ambulance. Another trip to the hospital.
He died on a Monday morning. My husband received a text from a caretaker while at work.
I tried to be optimistic, but neither of us knew the state of his soul.
Even as a sit here writing this, questions race through my mind. Why would God allow the door to crack open just a little and then slam shut? Did he plant a seed that was never intended to yield fruit?
I don't have the answers. I don't know where this person's spirit rests. But the same God who put this neighbor next door speaks to my anxious heart.
Most of us know John the Baptist as the bold, fearless one who paved the way for Jesus. The one who decreased so Jesus could increase.
But at the opening of Matthew 11, we get a different picture of this prophet. The man who cleared the way is now questioning. He's hurting. He's stuck in a prison, and perhaps waiting for the Messiah who performed miracles for everyone else to extend a miracle to him.
Messengers deliver this message from John to Jesus:
"Are you the one who is to come, or shall we look for another?"

Matthew 11:3 ESV
Really? Is this even the same person? One moment he was literally shouting the name of Jesus from every platform, and now he's not even sure he knows who Jesus is.
As much as we may like to see Jesus intervene, he doesn't. Instead, he tells the messengers to tell John what they hear and see.
He concludes by saying,
"Blessed is the one who is not offended by me."

Matthew 11:6 ESV
Friends, our job is not to be the way or have all the answers. Our job is to point others to the way.
In his distress, John may have lost sight of this. He may have thought there was more he could do with his ministry, if given the opportunity.
But John's job was to shine a light toward Jesus. Nothing more. Nothing less. And he achieved that goal.
When we question God's motives, we lose sight of who he is.
Not only that, we lose sight of who we are. We are vessels he chooses to use and shine his Spirit through.
Sometimes, our opportunities only last for a moment. Others may last for years or even a lifetime. But when the vapor dissipates and an earthly life fades, let's not lose hope. Though we mourn, let's continue scattering those seeds.
Because we never know when that seed will burst forth and produce something beautiful.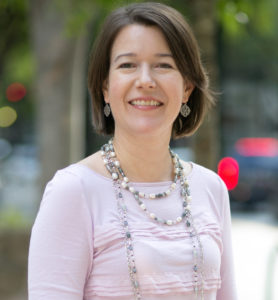 Abby McDonald is the mom of three, a wife and writer whose hope is show readers their identity is found in Christ alone, not the noise of the world. When she's not chasing their two boys or cuddling their newest sweet girl, you can find her drinking copious amounts of coffee while writing about her adventures on her blog. Abby would love to connect with you on her blog and her growing Facebook community.