I walked to the car. Laying on the driveway at my feet was a flower, pulled out by the bulb. My heart dropped. It was disturbing.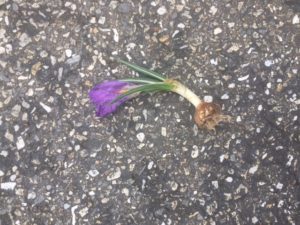 Leaning over to pick it up, I tossed it around in my hand, considering how it hadn't been picked like a normal flower, it hadn't been cut at it's stem so it could sprout up next year. Nope. Instead, it was ripped up, its core yanked from the ground. Never again would there be growth, renewal, and hope for this little thing.
The worst thing – ever – happened to this little flower. Hope was gone.
The devil wants to rip us, the same way, right from the bulb out of the hearty soil of God's love.  He wants to cut us, not at our stem, so that we can grow again, but at the core of who we are. He wants to take away our heart that believes we are son or daughter. He wants to remove the mustard seed of faith. He wants to hijack the truth we are saved from our heart. He wants to cripple our ability to ever bloom again.
The farmer sows the word. Some people are like seed along the path, where the word is sown. As soon as they hear it, Satan comes and takes away the word that was sown in them. Mk. 4:14-15
His tactics happen subtly. I don't know one person who said: I want to become an alcoholic. I want to someday cheat on my spouse. I dream of becoming addicted by drugs. I am looking forward to becoming a shopaholic. I hope to one day fall far, far away from Jesus, never to care much about his ways anymore. His tugs are slow-coming.
Little-by-little, he yanks. Little-by-little, we are removed just a little more from the soil we were planted in. Day-by-day, it happens until, one day – pop! – we're a plucked bulb from the ground. Faith is gone.
The thief comes only to steal and kill and destroy.  Jo. 10:10
What are we doing, anyway? Are we waiting and watching or are we just going – la, de, da –  living as life passes us by?
Just as a predator loves a woman head down, wearing earbuds (how better to grab her) – so does the enemy love when we are distracted by the noise, commotion and the distraction of the world. Snatch!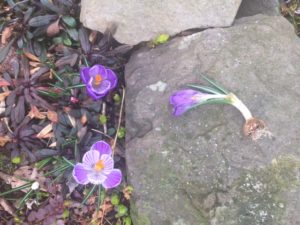 Friends, be aware. Don't just go through the motions of a day. Intentionally draw close to God.
Come near to God and he will come near to you. (Ja. 4:8)
Don't just wait for faith to happen. Move into it. Grab it.
Consequently, faith comes from hearing the message, and the message is heard through the word about Christ. (Ro. 10:17)
Don't just be a lukewarm Christian. Let God set you on fire. Go out.
So, because you are lukewarm–neither hot nor cold–I am about to spit you out of my mouth. (Rev. 3:16)
Don't sit around and live a distracted life. Stay focused. It matters.
Keep your eyes on Jesus, who both began and finished this race we're in. Study how he did it. Because he never lost sight of where he was headed – that exhilarating finish in and with God… (Heb. 12:2 MSG)
The days are short. The weeks are numbered. The mission is huge. The stakes are high. God is what matters.
I replanted that bulb, by the way. That is what God does. He replants us, no matter where we've been ripped up in life. He grows us again. And, we show up even more beautiful.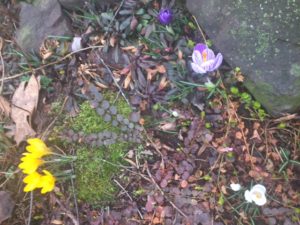 Kelly's new book, Fear Fighting: Awakening Courage to Overcome Your Fears has been called "A must read," "Breathtakingly honest" and a "Great Toolbox to Overcome Fear." Read it today.
Discover how to flee from fear and fly in faith through 4 Days to Fearless Challenge.
Get all Purposeful Faith blog posts by email – click here.