I know many of you are like me, we want our prayers answered.  So how do we pray with confident assurance that God will hear and answer our prayers?
"This is the confidence we have in approaching God: that if we ask anything according to his will, he hears us. And if we know that he hears us—whatever we ask—we know that we have what we asked of him," says 1 John 5:14-15.
What a powerful promise! God says he will give us "anything" we ask for according to His will. Isn't that amazing? It doesn't say that he might answer the prayer, or that sometimes He'll say "no." He says "we have what we have asked of him." That's 100 percent of the time! Granted it might not be in our timing, but it's always in God's perfect timing. The answer is, "Yes."
But there is one caveat: We must ask according to God's will.
Ah…now that's the tricky part. How can we possibly know God's will? The only way to truly know God's will is to pray the Scriptures. As it says in 2 Timothy 3:16, "All Scripture is God-breathed and is useful for teaching, rebuking, correcting and training in righteousness."
When I (Sally) was a young mom and a new believer in Christ, I had never actually prayed out loud. So when I stepped into my first Moms in Prayer meeting, I listened. Just listened. For six weeks I prayed along in my heart, but didn't say a word. I loved hearing the other women's Holy Spirit-directed prayers for my children. Yet I was too afraid to pray out loud. After about six weeks, I was brave enough to pray the Scripture for my child out loud. The Holy Spirit gave me the courage to speak out His Word, to pray His truth for my son. What an amazing experience, praying for my son, hearing other moms pray for my son. This was my new top priority for my kids.
God's answers poured out like a flood that first year; our group witnessed dramatic miracles. God healed children of major illnesses. We saw changes in kids' attitudes and behaviors. We prayed that every child would hear the good news—and He brought a Good News Club to our campus. And several teachers at our elementary school accepted Christ as Savior!
Eventually, I was leading my own Moms in Prayer group. We'd pray for our public school teachers adapting verse Acts 26:18: "May [teacher's name] open his/her eyes and turn them from darkness to light, and from the power of Satan to God, so that they may receive forgiveness of sins and a place among those who are sanctified by faith in Christ."
One day a mom came into the group upset about a certain teacher. I said, "That's the teacher we're going to pray for today!" And every week we prayed for her. As we prayed week after week for this teacher, God grew our love for her. Soon, she came to know the Lord, and my two youngest got to be in her class. I felt so privileged to be able to talk with her about the Lord and about prayer. It was amazing to watch and see her grow in Christ. But that wasn't the only teacher that became a Christian on that public school campus. Eleven other teachers came to Christ as we prayed Acts 26:18 over them!
Want to see God at work? Pray the Scriptures over the people in your life. How do you know if God is going to answer your prayer? If you pray according to His will. And His will is the mighty Word of God, which never comes back void. It always fulfills His purpose and His plan.
 "For my thoughts are not your thoughts, neither are your ways my ways," declares the Lord. "As the heavens are higher than the earth, so are my ways higher than your ways and my thoughts than your thoughts.
As the rain and the snow come down from heaven, and do not return to it without watering the earth and making it bud and flourish,  so that it yields seed for the sower and bread for the eater, so is my word that goes out from my mouth: It will not return to me empty, but will accomplish what I desire and achieve the purpose for which I sent it." Isaiah 55:8-11
My prayer for each one of you, is that you will "approach God's throne of grace with confidence, so that we may receive mercy and find grace to help us in our time of need."  Hebrews 4:16.  And every day has a time of need.
Related Resources: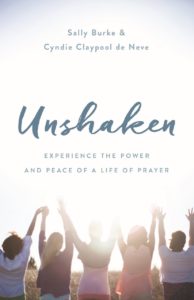 Want to learn how to remain unshaken in our crazy world? Sally Burke, the president of Moms in Prayer International, and Cyndie Claypool de Neve explain how in their new book, Unshaken. Want to go deeper? Experience what it really means to be unshaken through the innovative companion study guide.
Enjoy the peace and power of praying with other women for your children. Visit www.MomsInPrayer.org to learn more.