My son approached the buffet like a kid in a candy shop. He wanted to devour it all. It all was his for the taking. He could approach it as many times as he wanted. He could fill up his plate to the point where it was overflowing off the sides. He could eat and then go back to the dessert taking and try a bite of each pie.
If I didn't know better, I would have thought the kid died and went to heaven.
I know better though. He was very much still on earth and this was very much a Mother's Day brunch I was delighting in. Everyone was all – smiles, sugar and sweetness. MMMmm…I wish you all could have been there with me.
You would have died for the key lime pie, but I digress…
Kid ate so much. And, I just allowed it… You know, there's a tendency to want to take away in abundance, but I didn't. I encouraged him to just enjoy. There's a tendency to want to comment on his sticky hands. I didn't. I let go and let him eat in peace. There's a tendency to want to wipe up and pick up the area around his plate. Nope. I didn't. It would have ruined his moment.
He loved it.
So much so, he did what he usually never does. He looked at his plate and said, "Mommy, I want to share the best with you."
He wanted to give me tastes of his best stuff. He wanted to give to me from a place of abundance. He no longer, like usual, saw what he had as limited, he saw it as unlimited and that changed his entire view. It made him a giver instead of a horder.
As he thrust his plate of coconut pie towards me, I thought, "When we live from a place of God's abundance, we so much more easily share it and spread it."
Are you a giver or a horder? Are you living from a place of abundance, where you believe God is providing all you need (and then some), or are you living from a table of lack, where you concentrate on how little there is? Where you see all you don't have? Where you can't give anything away? Where you don't believe God will provide?
Switching our mentality is powerful, because when we believe God is giving we start giving. We loosen our grip and come towards people with open hands. We let go of the stress and find rest. We stop counting and keeping our pennies close to our vest.
We see the poor and we approach them.
We invite people over and make left-overs.
We pull out cash and church and give the whole wad.
We hear no words of affirmation in our ear, but hand them out anyway.
We notice a person alone and give of our time.
Whoever can be trusted with very little can also be trusted with much… (Lu. 16:10)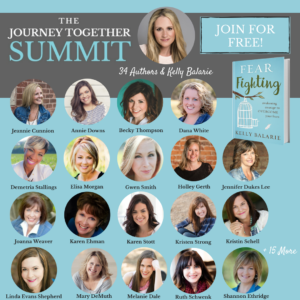 Don't Miss The Journey Together Summit, June 5-8! Join 34 leading authors with the sole mission of helping you discover new bravery. Whether you desire to be brave at home or at work, in your marriage or with your children, in ministry or in the mess of the day, dealing with a surprising life or just organizing it – this is the event for you.  There is something for everyone with over 34 topics of fear covered (wait till you see them all!).
Visit: http://www.journeytogethersummit.com/ for more information.
Want to win a bundle of 10-books here, enter to win here.
Kelly's new book, Fear Fighting: Awakening Courage to Overcome Your Fears has been called "A must read," "Breathtakingly honest" and a "Great Toolbox to Overcome Fear." Read it today.
Discover how to flee from fear and fly in faith through 4 Days to Fearless Challenge.
Get all Purposeful Faith blog posts by email – click here.