I laid in bed afraid. Alone, vulnerable, it felt like simply closing my eyes was an invitation to injury.  What if, a bad guy broke in? What if I really didn't lock the back door? What if someone knew my husband was gone?
Darkness surrounded me – in more way than one – lately. In truth, these days, I felt unsure and tense. I was unable to let go. I was incapable of changing things back to the way they were – light. I was mad about it. I was mounting up frustration inside. I was taking it out on my family and unloading it in passive-aggressive ways.
Do you lay in the darkness today? Unsure? Tense? Unable to let go? Incapable to change anything?
In the dark, our irrational fears live (boogie men, bad guys or burdensome worries or worse). In the dark, life feels like it might fall down on us. In the dark, we can't see our way. In the dark, we think we will never walk into light again. In the dark, we declare, we'll always stubbing our toe. In the dark, we are left by ourselves to struggle with the shadow of depression, fear, health issues, failing relationships, marital issues, financial concerns or worse…alone.
What dark has convinced you – you'll always be afraid?
Recently, I chatted with a friend, she said, "I used to be afraid of the dark."
Of course, I understood this. I'm convinced, no one likes the pitch-black, you-can't-see dark.  Why? As I figure it, in the absence of light, we often feel absent of God. In the dimness of this world, it's easy to let your heart turn dim as well. In the places we can't see, we decide we'll never find our way.
But, this friend had more to say. She spoke, "If you just turn your head, away from the darkness of your room, you can always find light. Starlight. Moon beams. Street lights. Reflective light. Car lights."
The light is always out there. You just have to look for it.
It's all about your perspective, I guess…
The light shines in the darkness, and the darkness has not overcome it. Jo. 1:5
Her words remind me: Jesus is the light. He is not able to be put out. His help is always with us. His reach is always towards us. His power is always moving, always casting, into our darkness. No power, no force, no scenario, no situation, no person – can overcome Him. He is more permanent than our dark rooms. He is more powerful than perceived problems.
What if we were to choose to see him instead of the darkness that surrounds?
What if we were to search for even the smallest ray of his light? How might it change things?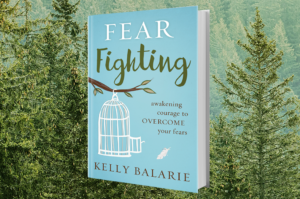 Order Kelly's powerful book, Fear Fighting: Awakening Courage to Overcome Your Fears, today!
Discover how to flee from fear and fly in faith through 4 Days to Fearless Challenge.
Get all the Purposeful Faith blog posts by email – click here.
Loading InLinkz ...