Everything seems to be bursting with life these days: fragrant lilacs, strong oak leaves, delicate baby birds in their nests, and my friends' bellies as their babies grow within.
The winter is over and spring is in full swing. Yet for some, things looks grim. Some are discouraged as they keep waiting with no end in sight. Others feel small, almost invisible in contrast to the loud and showy crowds.
But tucked within, deep inside that heart of yours He formed, He has planted the seed of something powerful.
Dig a little deeper, beneath the surface and see. It might be covered in dirt in the wake of rubble and ruins but it is present, not dulling with age. Even when you feel you've lost it, look for it, like buried treasure; it's waiting to be discovered and held close.
Look closer, it's there. It might be camouflaged—masked by hedges and shrubs, but hope is present. Its roots grow as you cut off the lies that choke life and fertilize with truth that gives life.
Yes, I declare, there is HOPE!
Look up instead of down and find it resting above, secure. Lasting hope is found in God.
Hope rises and you are changed because of what it brings to the mundane, how it sustains through the muck.
Hope can make all the difference between giving up and hanging on.
I know things are hard. I understand the wrestle, the stumbles, the worry, the here-we-are-again moments. Life is certainty unpredictable and can't often be tied up in a nice, neat bow.
Do you fear the unraveling because you wonder if you can handle what might come your way?
Take heart! You don't have to figure it all out. Call to mind what is true in this moment.
God wove you together and He holds you together. It's not up to you alone.
Lean in. Lay your head on His chest as He keeps gently, yet persistently, telling you of His love until it sinks down from head to heart—until it works its way into the fiber of your being.
Your Heavenly Father stitched you together with care and affection, and sang over before He brought you forth. He is the Giver of this valuable gift.
Oh how you are loved with a sustaining, unwavering, life-giving hope.
And this hope is not stagnant, it is active:
It rests.
It gives life.
It usurps the impossible.
It is true.
It is lasting.
It is not taken down by circumstances or discredited by darkness.
Hope rises still; once buried but now resurrected.
There is always hope. And His name is Jesus.
Stand up, on two feet, and walk forward in Hope; a constant companion and faithful guide. Don't apologize for it walking by your side.
Look up, hands up high and move. Go on, He is with You. And in Him: YOU HAVE HOPE!
Take the next step in confidence, with Jesus. He is our never-changing, ever-present, unwavering, unmatched, never-ending HOPE!
Romans 5:5 "And this hope will not lead to disappointment. For we know how dearly God loves us, because he has given us the Holy Spirit to fill our hearts with his love."

Tune in to hope today!
Share hope with those around you.
Find hope in the promises of God, and you will not be disappointed!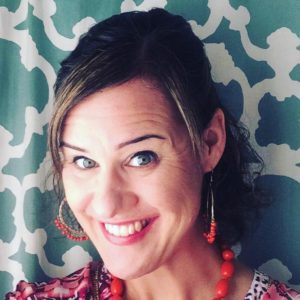 Katie M. Reid is a writer and speaker who encourages others to find grace in the unraveling of life. She inspires women and youth to embrace their identity in Christ and live out their God-given purpose. Katie delights in her hubby, five children, and their life in ministry. Cut-to-the-chase conversation over hot or iced tea is one of her favorite things.
Connect with Katie at katiemreid.com and on Facebook and Twitter.