Post by:  Beth Duewel
I wonder how many seconds I've held my breath? Like when I lost my mom. 1, 2, 3. Or when I stared at another blue line on another pregnancy test. 1, 2, 3, 4. How about the many times my children have ran into the sharp corners of life. 1, 2, 3, 4, 5,…
I don't get those moments back.
So, I need to breathe in brave. It helps to remember David fighting the giant.
Because I want to be able to fight like…a boy? Really, it still amazes me. How did a boy have the faith to step forward to fight a giant of a man? The name alone intimidates—Goliath the giant of Gath. I mean, David heard what the people were saying. His father, Jesse, and three brothers went to fight the Philistines while David ran errands and tended to their heard of sheep. But this small story of giant fighting is huge. For me. And no doubt for the girls in my fifth grade Sunday school class.
Because we want to know God will help us battle big in life. Just like David, we're afraid sometimes. We also want to test and see if God's love makes us brave. Does it?
Taking a breath of fresh air.
I'll admit, when I am tired or feel unable—I forget about David. Really. All I can do is watch the worry-wrinkle between my brows deepen. But last month, while hearing this fear-fighting story again through the voices of my fifth grade Sunday school class—I took in a breath of fresh air.
In fact, we were all shocked to discover that David had no cheerleaders. Nope. Not even one. No one expected David to be brave. Not his family. Not his friends. Not his enemy. Because afraid was contagious and had already traveled throughout the valley. It loomed over the battle camp like smoggy smoke. A gasp, a quiet sigh, and a defeated shrug accomplished what words didn't have to. In fact, Jesse kept David busy minding his own worry that his other sons were okay.
"And Jesse said to David his son, "Take for your brothers an ephah of this parched grain, and these ten loaves, and carry them quickly to the camp of your brothers. Also take these ten cheeses to the commander of their thousand. See if your brothers are well, and bring back some token from them." (1Samuel 17: 17-18 ESV).
Yes. David took the provisions as his father had commanded. But while he was there at the camp speaking with his brothers, David heard something. He heard Goliath making threats, breathing anger like fire, and beating his bronze chest with demands to fight just one. Then 1Samuel 17: 23 says, "And David heard him."
David heard the raging voice of Goliath, but he also heard the Sovereign whisper of God.
Besides, he wasn't about to breathe in the same air as everyone else. While they were keeping David busy running ten cheeses to the commander, David was puzzled and questioned the fear and concerns of others. Why did he wonder?
Because David knew. He knew God protected. He knew God slew evil. He knew God rescued the lost. He knew God helped him pry open the jaw of the lion that tried to eat his sheep. He knew God.
We want to know God in this way. But we are satisfied with delivering cheese.
Why? Because we listen to the sound of our own heart beating. We allow our faith to match our circumstance. We pay closer attention to our worry-wrinkles and don't see ourselves as the true reflective image of God.
How do we fight like a boy? Like David. We need to take time each day to know God.  Through prayer and His Word we can know without a doubt God will help us. He will protect us. He will slay the enemy for us. He will rescue our lost hope, lost patience, lost courage, lost joy, and our lost breath. God's love makes us brave.
"As the Philistine moved closer to attack him, David ran quickly toward the battle line to meet him. Reaching into his bag and taking out a stone, he slung it and struck the Philistine on the forehead. The stone sank into his forehead, and he fell face down on the ground.
So David triumphed over the Philistine with a sling and a stone…" (1 Samuel 17:48-50) ESV. 
Whatever the battle today. Breathe brave, my friend. Breathe brave.
Want to be more fearless? Sign up for the 4 Days to Fearless Challenge! Or, order the book, Fear Fighting, today!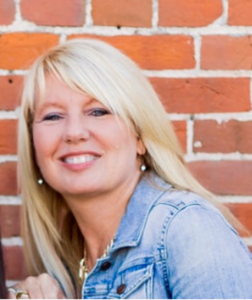 Beth Duewel is a wife and mom of three who is only able to breathe-brave through the perfect love of Christ. Beth would love to connect and pray with you on her blog: Fix-Her-Upper.com. Look for her book in spring of 2017, Fix-Her-Upper: Hope and Laughter Through a God Renovated Life.