Two moms duked it out, while I tried to pull a floppy wet shirt off my body in the pool stall. I'd tell you all I wasn't eavesdropping, but I'd be lying; I was 100% listening to every word that flowed from their mouths from the safe-confines of my bunker.
"Harvard is going to be such a far drive for my son come Fall. I don't know how we are going to do it." Said mom voice 1.
"Well, thank goodness, He's going to Harvard because Stanford is farther and I get sick flying on airplanes, even in first-class."
Now, these two, who I was sure were perfectly toned, impeccably made-up and outrageously beautiful, brought to the surface my every insecurity. And based on their words, I was scheming… trying to internally figure out how to corral my son, tie him down and drag him to the local tutoring session post-school… It's not too much to ask a kid to do SAT questions at age 6 is it? A mom's who starts early, wins.
My competitive juices were flowing. My mind racing and twisting and…all of a sudden – Godly wisdom struck: I don't have to enter into this life-killing race with these women.
I can choose not to be a part of this rat race. I can unsubscribe.
Unsubscribing sounds like this: They can do what they want to or say what they say. They can work hard to acquire wealth, goods or status. They can talk about it. They can make it their life goal. But, just because that is what they are doing, doesn't mean it is what I should be doing. What I should be doing is: making Christ my aim, making Christ my thoughts, making love my goal. 
I can't change people, but what I can change is: my mind, my thoughts and my goals.
This feels like freedom.
I sense there are some of you who need freedom right now too. Maybe from a person who is causing your mind to go to places God hasn't invited it?
Right now, join me in asking God, "What words, goals or pursuits have I been allowing to take hold in my heart that are not from you?"
Listen for his response. Be aware of how God might be leading you.
Then, ask him, "How can I protect my heart in a better way?"
I believe he's saying to me: "Kelly, everything you hear doesn't have to go to your heart."
And, I agree. Starting today, I'll filter what I let in.
Thank you God, you are faithful.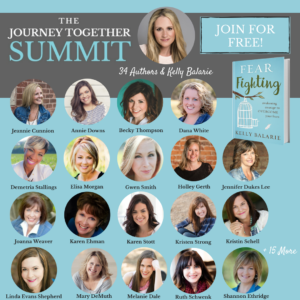 Don't Miss The Journey Together Summit, June 5-8! Join 34 leading authors with the sole mission of helping you discover new bravery. Whether you desire to be brave at home or at work, in your marriage or with your children, in ministry or in the mess of the day, dealing with a surprising life or just organizing it – this is the event for you.  There is something for everyone with over 34 topics of fear covered (wait till you see them all!).
Want to win a bundle of 10-books here, enter to win here.
Kelly's new book, Fear Fighting: Awakening Courage to Overcome Your Fears has been called "A must read," "Breathtakingly honest" and a "Great Toolbox to Overcome Fear." Read it today.
Discover how to flee from fear and fly in faith through 4 Days to Fearless Challenge.
Get all Purposeful Faith blog posts by email – click here.