Today, I welcome Christy Underwood! She is not only my dear friend, but she is also a woman who fights to stand strong in Christ. I admire her perseverance and endurance. I think you will too. May her story below be an inspiration to you.
The ultrasound tech asked, "How many pregnancies have you had?"
"This is my fifth."
"How many live births?"
"One."
Questions like these are tough to answer when you've had repeat miscarriages.
What's even tougher is learning at your first ultrasound that there's nothing in the sac. Nothing. That was a first – and I was devastated.
On my way home from the doctor's office, I heard the song "Come Alive (Dry Bones)," by Lauren Daigle:
"Breathe, oh breath of God
Now breathe, oh breath of God
Breathe, oh breath of God, now breathe
As we call out to dry bones
Come alive, come alive
We call out to dead hearts
Come alive, come alive."
Ezekiel once saw dry bones in a vision. God told Ezekiel to prophesy over the bones. When he did, God put breath in them and they came to life. I knew the story behind the song before I was pregnant. Hearing it this time, I cried. I badly wanted God to breathe life into me, into my baby.
In the days ahead, I had bloodwork done, and my hormone levels were consistent with a normal pregnancy but not rising as much as expected. I still was hopeful, but, at our next ultrasound the result was the same:  No life. No baby.
There are no words to explain the sinking feeling.
Yet through this heartache, amazingly, I've experienced more of God's love. It's unlike anything the world can offer. Sure, I've wept – and wept, but God extended strength, peace, and joy during the difficult times. I'm not depressed. I'm not anxious. Only God, the Creator of all good things, could have carried me through this.
Do you ever stop to consider God's point of view when you're going through a hard time?
He's a good, loving Father. When I see my daughter hurting, my heart breaks. I desire to give her good things. Yet, because I love her, at times, I must withhold things for her benefit.
God could have given us this child, but maybe He didn't because He wants me to share my story with others who have experienced loss. Maybe He saw how this would strengthen my faith and the faith of others. Maybe He saw how He would be glorified.
And, maybe, God intervenes more than I realize, maybe, more than – we – realize…
I started reading Safe in the Arms of God by John MacArthur. Here, it occurred to me, God might have prohibited a situation from happening that would have been even more difficult.
Maybe I don't need to know it all…maybe I just need to trust a good, loving Father.
Yes, I continue to pray for a child, but I want God's plan for my life more than a child.  I choose to trust Him for myself, my husband, and my daughter. Trusting for my daughter is the most difficult. Sometimes I want another child more for her than for me. God reminds me that I need to trust Him. Isn't it hard though when we think we know what's best?
These words encourage me.  I hope they  encourage you too:
When you don't move the mountains
I'm needing you to move
When you don't part the waters
I wish I could walk through
When you don't give the answers
As I cry out to you
I will trust, I will trust, I will trust in you.
– Song, Trust in You by Lauren Daigle
Whether it seems big or small, God cares and desires to reveal His love for you. He wants to breathe new hope, joy and peace into what we look at as dead, dry and done with. Even with Jesus, what looked dead, at the right time, came alive. Day by day, let's trust God, even when our plans don't seem to align with His.
Prayer: God, thank you for who You are. You are a Wonderful Counselor, Mighty God, the Everlasting Father, and the Prince of Peace. Help us to trust in You when we don't know what tomorrow will bring. Help us to keep our minds and thoughts on You instead of the worries of this world. Help us to expect You to show up, that we would feel Your love and know the peace that only You can bring. Amen.
Order Kelly's new book, Fear Fighting: Awakening Courage to Overcome Your Fears, today!
Discover how to flee from fear and fly in faith through 4 Days to Fearless Challenge.
Get all the Purposeful Faith blog posts by email – click here.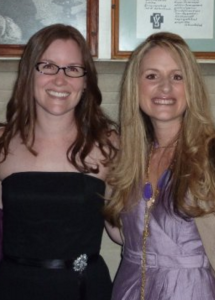 Christy is a wife, a mother to one sweet girl, and a speech therapist. She's lived in Southern California her whole life. Kelly and Christy met in their early 20s at a church retreat and have supported each other through all of the crazy transitions life keeps bringing.
Kelly's must-add words about Christy: Christy is faithful. She pursues God in a way where she doesn't let her heart quit. I admire her, I love her and I thank her for using her extreme difficulty as a God-exalting opportunity. Daddy is well pleased.