Here I am. Somewhere new.
My husband and I packed it all in the car…every single item we could. Balls went into crannies, books went in nooks and luggage found container spots I never knew existed. We drove 20 hours straight. Sleepless. Determined. Eager. Excited. Taking a one-hour sleep detour at a highway-hugging rest stop, so as not to kill ourselves.
I was headed somewhere new.
Expecting better.
Letting the carrot call me.
It always has…
I wanted a new school to teach me new things, so I would finally be smart. I wanted new friends to finally love me. I wanted new clothes rather than a uniform. I wanted new experiences to make me wise. I wanted a new place to make me new, the shiny girl that everyone wanted.
What new are you searching for?
Somewhere else. That is the place of promise…
It looks great until you get there, then you see what is wrong with it. 
Then you see – flaws.
My first thought: "This place doesn't have that much."
My second thought: "I don't have any friends here."
My third thought: "I am going to have a horrible summer." 
I gazed out my shiny new window, "Things aren't going to turn out. I'm going to hate life here."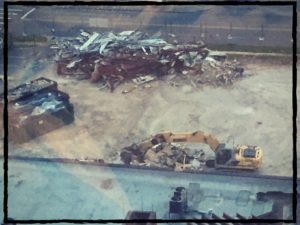 What pile sits before you – that you can't sort? What looks impossible?
My husband approached, somehow reading my mind, "God has whispered to me…'Kelly, we need to see his good, his life, his opportunity.'"
God is greater than meets the eye – his great is always ready to unfold.
Beyond trash, there is a God who knows the route. A God who sees the whole horizon. A God who knows how to steer around potholes. A God who is well aware of the way.
Will I embark? Will I step up as the traveler, along for the ride?  Sitting under shelter? Waiting on his timing? Soaking in his opportunities? Expectant of the view?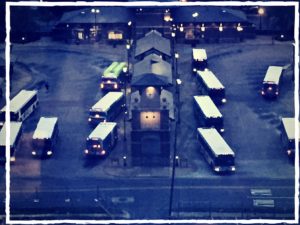 Yet, believing, all the same, that every road ends at love, which is the real feeling of being enraptured into beautiful.
"And the Lord will guide you continually and satisfy your desire in scorched places and make your bones strong; and you shall be like a watered garden, like a spring of water, whose waters do not fail. (Is. 58:11)
I am driving into his presence.
By day the LORD went ahead of them in a pillar of cloud to guide them on their way and by night in a pillar of fire to give them light, so that they could travel by day or night. Ex. 13:21
He will sit over me and be over me.
He will sit over you and be over you.
He will progress me into his progress.
He will progress you into his progress.
He will help me see the horizon of the new he is going to do.
He will help you to see the horizon of the new he is going to do.
He will be. And so will I.
"Be still and know that I am God." (Ps. 46:10)
And, just doing that opens up a whole new view. A trajectory. A horizon of hope. A story about to unfold.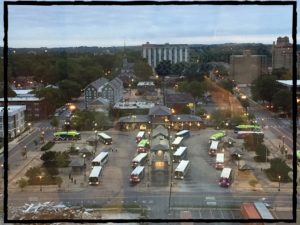 You are, God – God. Today I declare it and tomorrow I will continue to believe it. Amen.
Get all Purposeful Faith blog posts by email – click here.
Loading InLinkz ...