Post by: Katie M. Reid
Grow in Faith
Spring is just around the corner and I'm so glad. What a thrill it will be to see daffodils peeking their heads through the once barren ground.
As this new season emerges I want to be ready to enter it—ready for what's coming next—not just Spring but for the plans my Savior has for new life.
But how do we effectively grow in our faith?
When we focus on these four areas, I think we will be in great shape for what's coming.
G- Grace
R- Rest
O- Outside Help
W- Worship
Step 1: Grace
When we receive God's grace and extend it to ourselves and others we position ourselves to live unhindered by the weeds of sin that threaten to choke us. The enemy likes to wrap his lies around our roots and stunt our growth with his schemes. Let's says "no" to the sins that easily entangle and expose the culprit that tries to trip us.
Therefore, since we are surrounded by such a great cloud of witnesses, let us throw off everything that hinders and the sin that so easily entangles. And let us run with perseverance the race marked out for us. –Hebrews 12:1

Put on the full armor of God, so that you can take your stand against the devil's schemes. –Ephesians 6:11
Maybe the weeds that overwhelm are stubborn things like discouragement, doubt or fear?
Maybe the schemes sent to stunt growth are sneaky things like pride, legalism or isolation?
As we sow in grace we lay the ground work for growth.
Rather, you must grow in the grace and knowledge of our Lord and Savior Jesus Christ. All glory to him, both now and forever! Amen. –2 Peter 3:18
Step 2: Rest
It might seem counterintuitive to rest, but it is necessary in order to facilitate optimal growth. My tween daughter is growing up and she requires more rest as her limbs are stretching and lengthening, and her emotions are swelling in greater ways than before.
Rest is important to prepare us for what's coming. If we neglect it I believe we stunt our growth. As we rest we communicate trust in the One who makes each beautiful blossom, in His time.
Let's bend to God's ways of doing things.
Step 3: Outside help
Are we depending on the Lord to grow us or mustering up gumption to become something great?
Are we insistent on being a lone bloom or do we gather near to those who have gone before us, to help us blossom more beautifully?
As we allow the Master Gardener to cultivate and others to support, uplift and help us see blind spots, we become more fragrant and strong.
Don't go it alone. Learn to depend on the One—and the ones He gives you—to help you stay the course and emerge in full bloom with the coming of Spring.
Step 4: Worship
We grow in important ways when we acknowledge where our beauty and strength originate. When we offer ourselves as living sacrifices and lift our limbs in worship to Jesus, we become properly aligned and rightly focused on the Son.
It's tempting to let ourselves overshadow the true Light. Don't be tricked into worshiping the creation instead of the Creator (see Romans 1:25). As we allow our roots to go deep—grounded in His Truth—and bend with the wind of His Spirit, we become firmly planted in soil that sustains.
As we worship, even through rainy times, we offer up a fragrant aroma to the One we made us from seed.
Through grace, rest, outside help and worship…we learn how to GROW and are set free to BLOOM.
Get all Purposeful Faith blog posts by email – click here.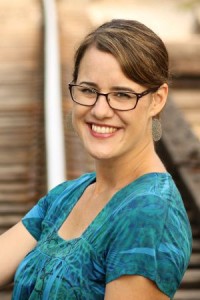 Katie M. Reid is a tightly wound woman who fumbles to receive and extend grace in everyday moments. She delights in her hubby, four children (and one on the way) and their life in ministry. Through her writing, singing, speaking and photography she encourages others to find grace in the unraveling of life. Connect with Katie at katiemreid.com.