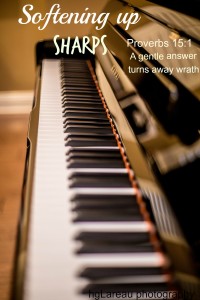 Post by: Christy Mobley
Proverbs 15:1  A soft word turns away wrath but harsh words stir up anger. (NIV)
I scurried into the store and  made a bee line for the customer service counter. It was the holiday season and I was in a hurry to find a specific gift.
There was one other lady standing beside the counter and several  customer service clerks meandering behind it. When I got to the counter one of the clerks immediately approached me and asked me if she could help. I no sooner got  the words, "I wonder if you could tell me where…," out of my mouth before the woman standing beside me erupted into a soprano sounding hysteria. With sharp staccato inflections, she belted, "Is there something wrong with you? Can't you see I've been waiting and you're breaking in line? And… you're taking my help!"
I felt the blood rush to my face and the hair on the back of my neck stand up as I glanced around and saw there was no line and plenty of help available. I have to admit my first reaction was to blast her right back with a big fat piece of my mind. But Someone bigger than me got the better of me. I almost couldn't believe myself, when I turned to the clerk and asked softly, "Has anyone helped this woman? If not, will you help her?"
Someone bigger than me got the better of me.
Just as the key verse from Proverbs states,  the soft words I spoke turned away this woman's wrath.
What made her act that way?  I suppose it could have been the holiday rush, too much to do on her to-do-list, or she might have gotten up on the wrong side of the bed, but maybe, just maybe, what I witnessed was her normal.
I say that because thirty years ago she, might have been me. Because on many a day that was my normal.
I grew up in a family of yellers. Yelling doesn't have to mean being loud. Yelling can refer to the tone of your voice as well.   Quick and sharp can sound harsh and brash.  I didn't  necessarily like some of the tones played out  in my childhood but it was my normal. And you don't change normal.
But God does.
In my early twenties, it was no coincidence that I married a peacemaker, my polar opposite, a man who could charm the skin off a snake.  Needless to say,  my often sharp and abrupt approach was a shock to his system. He would say to me, "Christy, the way in which you deliver a message is just as important as the message you deliver."
The way in which you deliver a message is just as important as the message you deliver.
Those words gradually went from my head to my heart. While raising our two boys, and watching them grow, I was growing too  – spiritually. My deepest desire was for my boys to grow up to be godly men with gentle spirits. But whatever children see their parents do in moderation they will do in excess. It was then the Holy Spirit convicted my heart that if I was to be a brighter light I needed to have a softer voice.
Whatever we do in moderation our children will do in excess.
I needed to soften my sharp words and tune up my normal. To make this change I had to do 3 things, admit, commit, and submit.
1. Admit, I was a yeller. I had to admit my approach was often wrong.
2. Commit it to prayer. I couldn't do this on my own, I needed to ask God for help.
3. Submit to accountability. Finally I had to have a few somebody's to hold me to it. My boys were more than willing to oblige in that department.
Thanks be to God, He is still at work in me everyday changing me to be more like Him.
Today, I hope all my words will carry the sweet harmony of Jesus, whether it's to family, friends, the bag boy at the grocery, the girl at the drive-through window,  or a hysterical woman in a department store.
What about you?  At the end of the day, don't you want to be someone's melody rather than their malady?
Don't miss any updates on Purposeful Faith! Click Here to receive blog posts to your email inbox.  Sign up today to be entered into a sweepstakes to win an Amazon Gift Card.
Post by: Christy Mobley