It's the last thing you want to do on a day where you need to do everything, and hardly want to do that. But, there I found myself, at the drug store posing half-heartedly in front of a white pull-down curtain. I needed a passport photo.
Mugshot.  Mugshot- was what ran through my head he clicked. That – and the idea that I really should have put my hair down and tried to improve myself a bit, like most moms do. Most moms throw on the lipgloss. Most moms might adjust their hair rather than keeping it in this weird outdated bun look. Most moms might try to smile a little bigger.
Not me. I was tired. Daughter woke at 3 AM with a wet bed. My eye is still not done with pink eye (what are you supposed to do – throw out every last inch of makeup?). Husband is gone all week and I am womaning the house. So, yes, when the "click" happened, well, my face? It didn't really happen that much.
I just stood there.
He finished the job.
I looked at the photo.
And saw what I am fully convinced must be the worst mug shot ever of me. It was as bad as those pre-jail photos – you all know what I am talking about. It's the one we all see on TV – "And…today, a mom went rogue in CVS". The image shoots up on screen. We all know it. The light is bad, the face looks horrible, the smile is gone and the woman looks like death just visited her.
This was me. Bags under eyes. Eye red. Smile gone. And, to add to all this, an outshoot of hair wanted to show off right above my ear. How does this even happen, anyway?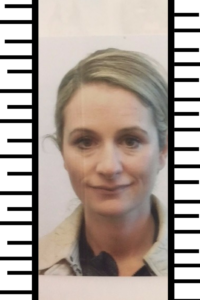 The picture is not cute, not cute at all, I thought as I stood outside the drug store contemplating whether to go back in and hassle the photo guy until he made me beautiful, photo-shopped, wrinkle-less, perfect and all that I ever dreamed of being 8:00 am on a Wednesday morning.
But, I didn't. I just stood there. Why? Because on my heart was this weird inclination of revelation. Like God wanted to do something with me and this photo. So, although I almost walked back in the store 4 times, I didn't.
If I've learned anything in my short life it is this: You don't want to turn down God, when He's working on something.
Frankly, I can't even begin to imagine if Jesus turned down his role. "Change of plans, I'm not dying on the cross."
Nope. Not good.
With this in mind, I try to stay on God's path and when I hop off, I fight with all my might to get back on. So, I just stood there on the sidewalk – a freak with a photo – and stared at it. Two steps to the door, two steps back.
Come on, God….any time now.
Friend, maybe, like me, the ugly thing you can't get through, God is trying to speak through…
And finally, it came to my heart: Kelly, on your worst day, on your ugly days, on your tired days, on your worn days, on your pain-stricken days, on your unsure days, on your bad hair days, on your I-don't-have-a-smile-days – still, Kelly, I love you. 
I love that picture.
I love your realness.
I love your wrinkles.
I love you.
You don't need to be more for me.
I don't love you less when you look less or appear less.
I choose you – just like that – eye bags, red-eye, smileless and all… 
When you see that image, imagine me, wanting you – in all your ugly-, frumpy- and grumpy-ness. 
So, I took that square photo, tucked it into my bag and walked to the car. I'd lie if I didn't tell you I gasped at it one more time on my way home. I did.  But, I also let that passport stand for what it really was – a reminder: No matter where I go, I always am in God's love.
I'll look at this image again. And again. And, my prayer – for when I do – is this: God, let us always remember our worst images, are made beautiful because you simply love us as we are. And, in that, we can rest. We don't need to work up your love. Help us to remember your goodness, your kindness and your unconditional love towards us, God. Amen.
Kelly's new book, Fear Fighting: Awakening Courage to Overcome Your Fears has been called "A must read," "Breathtakingly honest" and a "Great Toolbox to Overcome Fear." Read it today.
Discover how to flee from fear and fly in faith through 4 Days to Fearless Challenge.
Get all Purposeful Faith blog posts by email – click here.
Loading InLinkz ...