Today, I am welcoming Michele Cushatt. Michele is she knows what it's like to lose her footing, and to wonder if she'd ever again be able to stand. But she also knows what it's like to cry out to God for grace and discover the miracle of His Presence and His Purpose right here, right now. You will love her words….
Comment for the chance to win Michelle's book and her I AM scripture cards: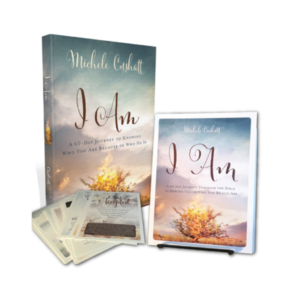 —
The storm hit hard and fast and without warning.
Several hours before, we'd loaded kids and adults into our family boat for a day of skiing and tubing on Las Vegas' Lake Mead. The day started in perfection. Blue sky dotted with cotton clouds. Bright sun reflecting on glasslike waters.
It was the first time we'd taken my niece out on the boat. Only three years old, she took it all in with giggles and wide-eyed wonder.
But the laughter died the moment the storm struck. Cotton clouds turned ominous. Glasslike waters turned foamy and whitecapped. With a glance at the shore, I knew it would take more than a few minutes to get to safety. But with each second, the swells grew, threatening to overcome our tiny boat.
I reached for my niece, pulled her onto my lap, and held her close while my husband kept his hands white-knuckled on the wheel. To drive directly to shore, we had to steer straight into the gale-force wind. But to drive into the wind meant a risk of capsizing. We needed to get off the water. But how?
I closed my eyes and prayed. As my three-year-old niece gripped my arms, my heart reached for the God I knew could deliver us.
Save us, God!
I hoped for a Jesus-sized miracle, like the day He spoke to a Sea of Galilee storm, and wind and waves came to a dead stop (Mark 4:39).
But our storm continued. In spite of my faith-filled prayers, Jesus didn't deliver. If anything, the wind grew in intensity. I tried to stay calm for the kids, but my heart pounded with fear. I grew up on boats, knew a storm or two. But nothing like this one. Not even close.
While my brother navigated from the bow in an effort to keep the boat balanced, my husband started cutting z formations in the water. Turning left, then right kept him from driving straight into the wind. As a result, we inched closer to the shore.
Our nightmare lasted about an hour, a lifetime to a family who thought they might drown. Soaked and cold, weak from fear, we pulled ourselves and our boat out of the water and made for the safety of home. There I could finally contemplate my nagging questions:
Why didn't God deliver us?
Why didn't He calm the storm? I knew He was more than able; I believed it to my core. Thus the reason I prayed, because I knew my God could deliver.
And still the storm raged, oblivious to my request.
Even so. We made it home.
It took years for the lesson to have its full impact on my heart. For a long time I wondered why some storm-prayers are answered with calm and others are not. But now I see that day on Lake Mead a bit differently: Sometimes God delivers us from a storm. But other times He delivers us in it.
That day on the lake, God gave my husband the wisdom to z his way back to shore. God kept the boat balanced in waves far bigger than it could handle. And He kept all our children and family members wrapped up in life vests and out of the water. He didn't still the storm. But He calmed my kids and gave us a great story to tell our friends.
To those praying for a Deliverer, John 10:10 records Jesus making a powerful proclamation: "I have come that they may have life, and have it to the full."
I always loved that verse, probably because it sounded like the promise of a happy life. Naively, I believed Jesus' words included protection from all harm. Like a divine umbrella, God would spread the expanse of His arms over me and my loved ones and keep us from all rain.
It didn't take long to end up soaking wet.
But that's when I remembered more of Jesus' words, only six chapters later in John 16:33: "In this world you will have trouble."
Not "might have trouble." Not "could have trouble."
"In this world you will have trouble."
It's not a matter of if; it's a matter of when.
The same Jesus who promised deliverance also promised trouble. At first glance, Jesus' words sound contradictory. And yet His life proves otherwise. It was His death that made possible our lives. Hardship to realize hope. Trouble today for the promise of a party tomorrow.
Can I trust Jesus to deliver me through one to arrive at the other?
The unexpected is unavoidable. My dream of a trouble-free life was more than a little far-fetched. It doesn't matter whether you live in an affluent suburb of upper-class America or in an overcrowded slum of poverty-stricken India. The rain falls on each of us in good measure.
The question, then, is this: do you trust the Deliverer?
He's the hiding place, the shelter in the rain. Yes, there are moments when God delivers you and me from our troubles. Children overcome obstacles, illnesses are healed, marriages are revived.
But more often than not, He doesn't deliver us from harm; He delivers us in it.
The first is merely protection. The second is presence. The first causes us to cringe, as we wait for the next calamity to fall. The second provides a harbor of rest, regardless of the weather.
Life is more than calm and predictable circumstances. Life—full life—is weathering the unexpected storms and the impossible waves knowing the Deliverer is present with you in them.
I have told you these things, so that in me you may have peace. In this world you will have trouble. But take heart! I have overcome the world. —John 16:33
___________
AUTHOR BIO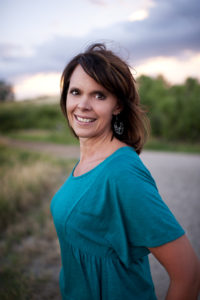 These words pulled from the pages of Michele's most recent book—I Am: A 60-day Journey to Knowing Who You Are Because of Who He Is—were penned during her long and grueling recovery from a third diagnosis of tongue cancer, during which she was permanently altered physically, emotionally and spiritually. In it, she speaks with raw honesty and hard-earned insight about our current identity epidemic and the reason why our best self-help and self-esteem tools aren't enough to heal our deepest wounds.
Michele and her husband, Troy, live in the mountains of Colorado with their six children, ages 9 to 24. She enjoys a good novel, a long walk, and a kitchen table filled with people. Learn more about Michele @ michelecushatt.com.
————-
DESCRIPTION OF I AM (www.iambook.net)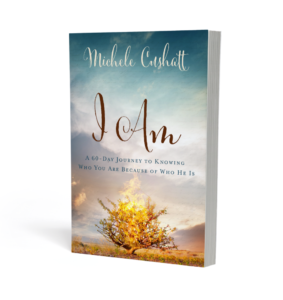 From the moment a woman wakes until she falls, exhausted, on her pillow, one question plagues her at every turn:
Am I enough?
The pressure to do more, be more has never been more intense. Online marketing. Self-help books. Movies, magazines and gym memberships. Even church attendance and social media streams have become a means of comparing ourselves to impossible standards. Am I pretty enough? Hip enough? Spiritual enough?
We fear the answer is "No."
When a brutal bout with cancer changed how she looked, talked, and lived, Michele Cushatt embarked on a soul-deep journey to rediscover herself. The typical self-esteem strategies and positivity plans weren't enough. Instead, she needed a new foundation, one that wouldn't prove flimsy when faced with the onslaught of day-to-day life.
I Am reminds us that our value isn't found in our talents, achievements, relationships, or appearance. It is instead found in a God who chose us, sent us, and promised to be with us—forever.