Post By: Katie M. Reid
I'm in denial that it's August already. I'm thankful we live in a tourist state (Michigan) and don't start school until after Labor Day. Many of my southern friends are sending their kiddos off to school this month.
Our summer has been a whirlwind and I desperately want it to slow down. I had plans to savor, linger, and slow down—but it feels like I'm trying to swim upstream in a river of gooey molasses.
After deliberations with my sister-in-law, I reinstated allowance in our home. The offspring now receive $3 a week—hey, Hubby and I used to receive 50 cents a week, so it's an upgrade.
I instructed the children that they should save up for something special and not just fill our home with dollar store treasures (a.k.a. cheap junk). They had their eyes set on larger items until the cash started burning a hole in their pockets. They begged me to stop by the store in the midst of a million-things-to-do kind of day. They would not relent even though I tried to explain how much there was to do.
Much to their dismay we ran out of time and I ran out of energy—lugging the handful of kids around town.
So, I said that we would go the next day. I said it matter-of-fact, with every intent of it happening.
And then it didn't.
I was achy from trying to do too much, the baby needed to eat, the toddler wouldn't sleep, I couldn't nap, and so on.
We ran out of time and steam.
I think there was steam coming out of the kids' ears as I delivered the world-crushing news that we didn't have time, again, to stop at the store.
They stomped, they screamed, and they called me a liar (more than once).
While their behavior was less-than-stellar, I felt guilty. I hadn't mean to lie. It wasn't my intent to not take them. Life happened and plans changed and flexibility and empathy were needed but not offered.
Mom, you always lie.
You say we're going to do something and we don't do it!
You are a liar.
I was mad about the unfair accusations but also convicted that often times I unintentionally don't keep my word. I wanted to remedy the situation so I apologized for what I could.
Kids, I'm really sorry it didn't work out to take you to the store. I did say that we were going to go, but I should have said something like, 'We will try our best to go. Or we will most likely go. Or we'll see if it works out.' Will you forgive me?
I want my kids to trust me. I need to more careful when I hand out promises. I want them to believe my words.
It's no fun to feel like a "liar, liar, pants of fire".
I pleased to say the next day we went to the store, even though it still wasn't convenient and we didn't have very much time—but I kept my word and peace was restored.
Here are 3 ways to pursue peace instead of burning down walls of trust:
Be realistic with what you can offer. Many times you might want to help others but when the time comes to make good on your promise, you are unable to fulfill it. It's hard to know what life will look like months from now. Be careful that you are not ensnaring yourself with your words. Don't use this as an excuse to be non-committal but ask God to help you be realistic with what you have time for in this present season. It's easier to be able to help out when the times comes vs. letting someone down because you can't make good on what you offered a long time ago.
Don't burn bridges. You want people to be able to trust you. Even if you've done something wrong unintentionally, go to the person and apologize for the way that you've let them down. Clear the air of offense and be willing to lay down the need to be right for the sake of the relationship (yeah, this one is really hard, but worth it). I'm not talking about issues of sin here, but letting go of the need to be top dog or have the upper hand. Try a little love and logic, like I do with our tween, I love you too much to argue.
Protect the margins on your calendar. Has your summer been like ours? Many of our commitments were unavoidable, but we need to do a better job of protecting margins. When schedules are busting at the seams, frustration seeps out and peace is compromised. Take a look at the rest of the month. Are there any obligations or activities that can be eliminated or delegated? Make some room to breathe and protect your white space. Some seasons require more commitments than others, but make sure your norm isn't like a hamster in a wheel—spinning round and round but going nowhere in particular. As we rest we communicate trust that God knew what He was doing when he instituted Sabbath.
So the next time $3 is burning a hole in my kids' pockets, I don't want to find my own pants on fire because I'm acting like a liar.
Let's pursue peace with God and family by being true to the Word and keeping our word.
Let's choose to apologize when we've lied and seek to make amends for the sake of our relationship with the Lord and others.
Let's stop stuffing schedules to the brim and ask God to help us create margin so we can enjoy Him and be recharged.
Psalm 34:14 "Turn from evil and do good, seek peace and pursue it."

Get all Purposeful Faith Blog Posts by Email – click here.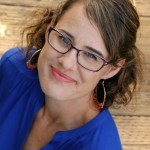 Katie M. Reid is a tightly wound woman, of the recovering perfectionist variety, who fumbles to receive and extend grace in everyday moments. She delights in her hubby, five children, and their life in ministry. Through her writing, singing, speaking and photography Katie encourages others to find grace in the unraveling of life.
Connect with Katie at katiemreid.com and on Twitter and Facebook.