I am delighted to have the fabulous Kristine Brown join us today as she shares about comparison. This can be sure-fire way to lose perspective and her blog reminds me to keep the focus of my eyes narrow and the intentions of my heart clean. Thank you Kristine – and welcome today! I hope you are blessed.
She lived in the shadow of someone else. Someone pretty important, as a matter of fact. Day in and day out she watched this graceful lady. From where she stood, it looked as if this other woman had God's hand of blessing on her all the time. Of course, it was hard to see clearly when walking behind her at a distance.
She couldn't get used to her new life in the shadows. And on top of that, she endured ridicule. If only I had a friend, she thought. She struggled to see beyond her bitter circumstances.
Her name was Hagar.
Hagar found herself in a new role as servant and handmaid to Sarah. Conflict started early in their relationship. And as the family dynamic changed, tension grew between the two women.
Sarah sat in a place of honor as Abraham's wife. Abraham had heard a solid promise from God that he would be the father of a great nation. God also assured him this promise would begin with a son from Sarah. But Hagar's position as the mother to Abraham's first-born only increased the difficulties between Sarah and her servant.
Soon that son arrived. Sarah gave birth to Isaac. And with this new addition to the family, the comparison voice grew louder and louder. Hagar felt unnoticed and unimportant compared to Sarah. Without realizing it, she allowed comparison to lead her away from the God who saw her.
Our situations may be different, but Hagar and I have a lot in common. We both let the destructive voice of comparison whisper into our hearts.
I too have felt the compulsion to compare myself to another woman. I've listened to the lies comparison tells me – lies that sound something like this…
She is more talented than me.
She is more capable than me.
She is noticed more than me.
Maybe you've heard them too.
If so, then you understand how devastating this voice can be. You know the doubt it causes. And maybe – like me – you're ready to silence it once and for all.
"I cry out to God Most High, to God who fulfills his purpose for me." Psalm 57:2 ESV
The comparison battle once affected every area of my life.
My parenting. My role as a wife. My work. My ministry.
I couldn't see the beauty of God's plan. Comparison distracted me from the path He created just for me.When I realized how much I'd let its condemning words alter my thoughts, I resolved to find a solution. I went straight to God's Word, and my discovery began in Hagar's story…
When Hagar had enough of the hurt, she called out to the God of Abraham and Sarah. That day she learned a vital truth.
God desired to be the friend Hagar so desperately wanted. He was not only the God of Abraham and Sarah. He was her God too, and He made her a steadfast promise just like he did for Abraham – a promise she could count on.
Tweet: Relying on God's promise is my first step in conquering comparison. – #OverItBook
"The angel added, 'I will increase your descendants so much that they will be too numerous to count.'" Genesis 16:10 NIV
God had a plan for Hagar. By listening to His voice instead of the destructive words of comparison, she took a bold step. She believed the promise.
Sometimes that first step is all we need to get back on the right path. The question is:
Am I ready to take that bold step? Am I willing to rely on God's promise and let go of comparison?
My answer is a resounding yes. Will you join me? I'd love to share with you more about Hagar and two other remarkable women in Scripture. Through their stories we can uncover the secret to overcoming comparison.
And when we do, we will also discover God's plan for us is more than we could ever imagine possible.
Get all Purposeful Faith blog posts by email – click here.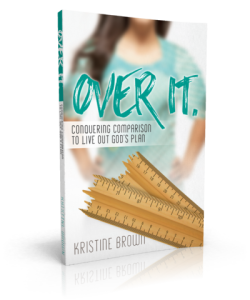 The Over It book is available on Amazon in paperback or e-book.  To purchase your copy, click here. ***Proceeds from the sale of each book will benefit the More Than Yourself, Inc. scholarship program.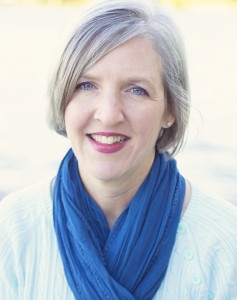 Kristine Brown is a writer, dramatist, and teacher. She helps women and teen girls navigate the ups and downs of real life. Kristine devotes her time to family, freelance writing, and her non-profit ministry, More Than Yourself, Inc. You can read more about her book at www.morethanyourself.com/over-it. Connect with Kristine on Twitter, Pinterest, and Facebook.