Today, it is my joy to welcome Tracey Rogers to Women's Ministry Monday. Her words both uplift and remind my heart that there is safety in my struggle and hope in my longings. Thank you, Tracey. 
I got lost in the wilderness.
I hadn't planned to even go out there, but there I was right in the middle of unfamiliar territory. I did, however, know what was on the other side. THAT I knew, so I was confident on how to maneuver myself through the uncomfortable deserted land.
But I got lost.
No, not literally. The deepest I have been in any kind of wilderness is a color-coded, well-worn hike through many Tennessee State Parks; hardly a place for loss.
No, my wilderness was God's doing. Leading me out of my comfort and leading me into a place of uncertainty and trial and pressure and temptation.
The wilderness is not an unusual place for God's people.
He often leads them into the wilderness. 
Moses was called by God from the burning bush while Moses was in the wilderness.
Elijah receives encouragement from God while spending 40 days in the wilderness.
The children of Israel spent 40 years in the wilderness –
unlearning the pagan influence from Egypt and becoming a people of God.
They found their identity in the wilderness. 
Even Jesus, Himself spent 40 days in the wilderness being tempted before beginning His earthly ministry.
David, too has a season in the wilderness. 
David was anointed king of Israel as a young man, and through a series of God-ordained coincidences he found himself in service of the present king of Israel, Saul. I imagine David saw the path to kingship. He imagined that he would learn from Saul; be mentored by this present king so he could one day step into the role that was destined for him. Although David knew the way the story would end, with him being king, I think the process ended up being very different than he expected. Saul began to see David as a threat and David was forced to run for his life. Where did he run?
To the wilderness. 
The wilderness is a place ripe for God to shape and grow David into the king He called him to be.
1 Samuel 21-31 record David's time in the wilderness. I don't think this turned out to be the way he expected God to grow him into a king, but that is exactly what God did. In the wilderness, David went from shepherd to leader. 
David learned how to handle opposition.
David was met with challenges, yet followed God.
The wilderness was where David found shelter in caves, yet knew the shadow of God's wings.
It was where David found rest beside still waters and found his soul restored.
And David, had tests and temptations, but resisted them and proved worthy of the call.
The wilderness isn't just for God's people in the Bible. He is still calling His own into the wilderness today, and that is where I found myself.
But I carved the path. Wondering, how can I get out. How will God actually work things out?
Real surrender is not the act of acknowledging hard times,
but of letting God walk you through them, altogether.
What path do you follow? Is it providing refuge?
"Be gracious to me, O God, be gracious to me, 
For my soul takes refuge in You;
And in the shadow of Your wings I will take refuge
Until destruction passes by.
I will cry to God Most High, 
To God who accomplishes all things for me.
He will send from heaven and save me;
He reproaches him who tramples upon me.     Selah.
God will send forth His lovingkindness and His truth." Ps. 57:1-3
And so I remained in the wilderness, but no longer felt lost. I found comfort and I think that is exactly what He had in mind.
Get all Purposeful Faith blog posts by email – click here. 
About Tracey Rogers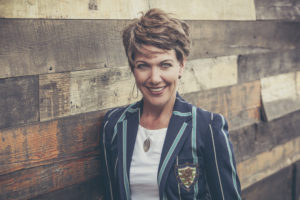 Tracey Rogers is a gifted Bible teacher who brings passion and enthusiasm to the life-giving Word of God. Tracey speaks with authority and authenticity leaving her listeners wanting to spend more time with God in His Word and inspiring them to live lives that shine His light. Tracey has also taken her revealing teaching lessons and unique insights and put them in her new book, Life Lessons from the Book of Job.
She lives in Franklin, Tennessee with her husband of almost 19 years, Kevin, along with their children Preston, 15; John John, 13; and Josie, 10.  In addition to serving on the adult groups staff at Church of the City, she has been incorporating her love of scripture by teaching Christ-centered yoga for 4 1/2 years.