As my husband put it, "Kelly, you need a day of relaxation."
I tended to agree. Recently, stress sat on my shoulders. Grievances were monumental annoyances. My mind was having an affair with worry. To-dos were growing longer. Much was adding up to – too much.
With this, I knew: God was calling me elsewhere – to something greater. So, I went.
I drove to a local park to take the day off and to walk. I was confident I'd found relief right after the 30-minute drive of grueling, never-ending traffic. Except it wasn't.
As I pulled up to the address shown on Google, the gates were slammed shut. Closed for business. No entry. Bye-bye day of relaxation.
No-go, Kelly.
No-go to where God called you.
More irritation climbed my back.
Have you ever gone where you believed God wanted you to go, only to find it a no-go? Only to have the gate shut? Only to feel lost?
Frustrated, but determined not to give up, I circled the mile-long block a couple times, wondering if there was another entrance. There wasn't. I returned to the gate with the word "STOP" on it, trying to inch forward and back to see if it would open. It wouldn't. I called a number to find out if it really was closed. It was.
"God, why did you take me here? To drop me? To leave me?"
"Kelly, I never dropped you or left you."
I looked down on my lap, and I could see that along the drive to this location, God had been speaking all kinds of blessings to me. Words of encouragement, thoughts of learning, discoveries about my day. He had been with me all the time.
He invited me to a drive of delighting in him. Not to a destination I demanded of him.
He never left me.
He never dropped me.
He never lost me.
Often, we declare we're lost when God knows we're in the process of being found. We see our way as long and burdensome, but I believe God thinks, "I'm doing something amazing along this way. I am transforming this woman, my way."
"For our light and momentary troubles are achieving for us an eternal glory that far outweighs them all." (2 Cor. 4:17)
Perhaps today, you don't lament where you are, but you grab on to it and see what God has for you.
Friends, as a heads up, Jami Amerine's book, Stolen Jesus is now available. Don't miss it.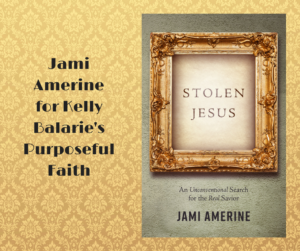 Discover how to flee from fear and fly in faith through 4 Days to Fearless Challenge.
Get all Purposeful Faith blog posts by email – click here.