I am delighted to have Mary Carver join us today for this #RaRalinkup post!
Last night I messaged two friends. I asked them if I was a bad person for getting upset to see other people get attention and accolades for something I had also done (but for which I certainly wasn't receiving that attention).
Honestly I wanted them to yell and point fingers and join me in my indignation at being left out and overlooked. Instead, they did what good friends do and reminded me that I wasn't in this business or this life for either attention or accolades.
They also admitted that my feelings didn't make me a bad person, simply human – but they were right about my focus. I had forgotten that my ministry and work and life are about obeying God and serving Him the best I can. Not pats on the backs and plastic trophies, not awards and atta-girls. But trust and obedience, love and service.
We can easily get distracted from our mission, can't we? One minute we're all about following God, no matter where He leads us, loving Him and loving others, doing whatever it takes to help people see Him. And then…bam! Before we even know what's happening, we've heard about someone else's mission – and all the perks that come with it, and we're simmering with envy, wishing our call looked like theirs.
My friend and co-author, Sara Frankl, knew something about that. The call on her life was one that was full of beauty and joy – but it was also full of pain and loss. Trusting God and loving what He had given her was a challenge, but she managed to do it with a grace and wisdom that encourages me and teaches me every day.
——————-
I remember the first time I really understood the parable of the vineyard workers. I had heard this Bible story all my life, but it finally clicked in college.
In Matthew 20, Jesus is recorded telling the story of a man who needed help with his harvest. He hired some men for the day, telling them the day's wage, which they accepted and began working. Throughout the day, he realized he needed more help to get the work completed, so he went out multiple times and hired more workers. Each time he offered the wage to his new workers, they accepted and set out to work.
At the end of the day, he called all the workers together and paid them the same day's wage. It was the wage he had offered to them, the one they had all accepted. But the men who had worked all day laboring in the fields were angry. They said they were cheated because they worked harder and longer than the others, and should be paid more than those who had worked only the last few hours.
In reality, the problem wasn't the amount they were paid for the work they did. He gave the workers what was promised to them. The problem was in the worker who only felt cheated when he compared his life to someone else's. The problem arose when the worker took his eyes off of his own mission, the one he agreed to gladly – and decided he wanted the easier task that was promised to someone else.
I have to remind myself of this story because it's hard for me not to feel cheated. It's hard for me to be thankful on a holiday weekend when I have to be alone in this condo. When there is no bustle of family or friends, when I can't enjoy a turkey dinner, when I have no one to talk with and laugh with and reminisce with and grieve with. It's hard when I compare my isolated existence with what I know is happening everywhere else.
But that's not the deal I made with God. I promised Him my whole life, and He promised He would love me, never leave me, and take me home to have eternal life in Heaven someday. It was the wage He promised me, the wage I accepted – and it's only when I take my eyes off of that promise that I feel cheated. God is honoring His deal. It's me who looks at life and says, "I'll have what she's having, please."
Does going back to that Bible story make all the hard-to-deal-with feelings disappear? Of course not. It's still brutal. But it reminds me of what I believe. I believe that God has a purpose for me, and that my job is to be faithful to whatever comes with my life. I will do my daily task and honor Him as I believe He is honoring me.
I believe it. Even when it doesn't feel good. Even when it hurts and is lonely and feels unfair and requires me to grieve a life I was never promised.
The truth is that my life is no better or worse than I wanted. It's just completely and utterly different. The wisdom comes in knowing that it is exactly as it should be. The joy comes in learning to love it, not despite all I've lost, but because of all that it has brought to me.
Get all Purposeful Faith blog posts by email –
click here.
Excerpt, Choose Joy: Finding Hope & Purpose When Life Hurts by Sara Frankl & Mary Carver
——————-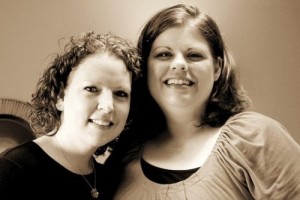 Mary Carver is a writer, speaker, and recovering perfectionist. She writes about her imperfect life with humor and honesty, encouraging women to give up on perfect and get on with life, at www.givinguponperfect.com. Mary is the co-author of a new book called, Choose Joy: Finding Hope & Purpose When Life Hurts. Released by the Hachette Book Group in 2016, CHOOSE JOY is a must-have for those searching for meaning and beauty in a world full of tragedy. Sara's words breathe with vitality and life, and her stories will inspire smiles, tears, and the desire to choose joy. To learn more about CHOOSE JOY.
Loading InLinkz ...