How do you press in to relationships that are hard?
How do you let your heart show up
when it has the inclination to run?
How do you push past fears,
when God is calling you to a great,
but difficult, mission?
Author, Jill Lynn Buteyn faced questions like these as endured with friend and blogger, Kara Tippetts, as she travelled a painful road from life to death to terminal cancer.
What a story! I couldn't be more delighted today to welcome Jill to Purposeful Faith today for an interview as she teaches us a lesson on loving, listening and just showing up.  Welcome Jill!

1. What moments and memories of Kara do you hold closest to your heart?  
Kara had such a great sense of humor. I don't know if I remember really big moments as much as I just remember laughing and joking around.  It was a joy to be with her.
She would still ask questions of her friends—about our marriages, our families. One night I stayed with her in the hospital and when she woke in the middle of the night, she asked me who was checking on a friend of ours who had moved away.
Many of my memories revolve around her being sick—she was sick much of the time that I knew her. But we still talked deeply and celebrated life. 
2. How do you "Just Show Up" to be present with someone in the face of pain, difficulties and hard times?
Often the reason we aren't there for someone who's in pain or sick is because we fear we won't know what to do or say. These are legitimate fears, but if we can fight through them (and we delve into some details about this in the book to help) there are so many blessings to be found when we walk through hard with each other. I would tell them to take a step toward a friend… to start somewhere, maybe with something small, and watch for the blessings God has planned.
3. What tangible steps might you give to help others overcome their fears?
Ask God for help, to show you what you can do and how to help someone else. If you fear entering into community, you might need to start slowly. That's okay. Just taking a step toward others is such a huge thing. It's lonely without community. Try to find a few safe people to grow friendships with. And in terms of fearing how to be there for someone who's sick or in pain, a good place to start is in simply choosing them. Decide that you're in, even if you're afraid, and that you're going to make movement toward them. Lean in. Don't head in the other direction. Honestly, that's where it starts. It can be scary getting in the trenches with someone, but it gets easier the more you do it.
4. What bible verse provided you comfort and how did it come alive in your life?
My favorite is Isaiah 41:10. Don't be afraid, for I am with you. Don't be discouraged, for I am your God. I will strengthen you and help you. I will hold you up with my victorious right hand.
I love this verse because it's all about HIS strength and not mine. He's holding me up. The picture this paints is such a comfort to me, and I constantly have to remind myself that it's not about what I can do but what HE's going to do.
5. What fears did you hit during this period and as you wrote the book, "Just Show Up"?
Well, I am exceptionally good at fear. Ha! Not something one wants to brag about. I was afraid people wouldn't want to read what I had to say—that they'd only want to hear from Kara. She was beloved, and for good reason. It was hard for me to think someone might pick up the book wanting to read only from Kara. Though really, people obviously know it's written by both of us, so I'm not sure why that fear gained so much traction.
The phrase that would often go through my head was, Lord, let me be enough. I feared me and my writing wouldn't be enough. And God never failed to ask me, for whom? He reminded me I only needed to be enough for him, and I already was because of what he'd done for me.
Get all Purposeful Faith blog posts by email – click here.
About Jill Buteyn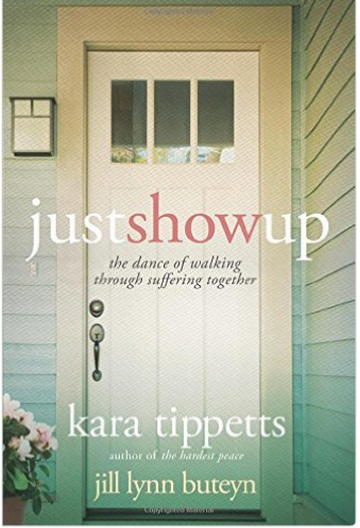 Jill Lynn Buteyn is a co-author of Just Show Up with Kara Tippetts, and the author of the inspirational romance novel, Falling for Texas (as Jill Lynn). A recipient of the ACFW Genesis award for her fiction work, she has a bachelor's degree in communications from Bethel University. Jill lives near the beautiful Rocky Mountains with her husband and two children.
Connect with her on social media, at Jill-Lynn.com, or at MundaneFaithfulness.com where she guest blogs.