Post by: Katie M. Reid
They had been carrying him for awhile.
He was heavy. His sickness weighed them down—not just physically, but emotionally as well.
They took his suffering seriously and they longed for a different outcome. They wanted to see their friend healed.
But what could they do?
If they could take away his pain, they would.
If they could fix him, they would.
If they could heal him, they would.
But they couldn't.
So they got together—worked as a committed team—and decided to take him to a renowned physician who was growing in popularity. He was more of an non-traditional doctor—but they were desperate for a cure and open to trying unconventional methods.
So they took their friend, by faith, to go and see this peculiar man.
They hoped for a miracle.
When they reached their destination there were crowds gathered, blocking the door. But these determined friends removed a part of the roof and let down the pallet on which their friend, the paralytic, was lying (see Mark 2:4).
They made sure their friend made it to Jesus.
And Jesus seeing their faith said to the the paralytic, 'My son, your sins are forgiven.' Mark 2:5, NASB

But in order that you may know that the Son of Man has authority on earth to forgive sins—He said to the paralytic—'I say to you, rise, take up your pallet and go home.' Mark 2:10-11, NASB
Obviously I took a little liberty in the retelling of this familiar bible story, but I wanted to share it to explain a work that God did in my heart a few weeks ago.
The Heavy Load
I had been carrying around a heavy burden. I was dragging around a dead-weight mummy, wrapped tightly in burial clothes. I had a few friends who were sick spiritually and I was trying to shoulder their choices by carrying them around.
This effort was weighing me down, both physically and emotionally. I was discouraged and unsure if I would see their healing.
I was weary.
Then God reminded me of the account of the friends who carried their paralyzed friend to Jesus. They carried him, but only so they could lift him to Jesus and trust Him to heal him.
They did what they could do from a human standpoint and believed that Jesus would do what they could not.
I wept with relief as God asked me to let down what I had been carrying all this time.
It wasn't my place to be my friends' savior. It wasn't my job to try and carry them. My part was to lift them up to Jesus and let Him take it from there.
As I raised my arms to reflect what He was showing me I felt the weight lift.
He took me from a place of pain and enabled me to rise up—crippled no longer.
I am not responsible for the outcome of my friends' decisions. My part is to be a good friend and lift them up in prayer, to the One who can make all the difference.
He Stoops to Save
Sweet peace floods our soul as we release our weighty burdens to the Lord.
The Burden Lifter reaches down and comforts His daughters.
He stoops down to help us walk free.
He speaks clear, gentle wisdom that realigns our thoughts to His truth.
He removes our poor attempts at bandaging others and works His healing salve into the cracked places.
My friends:
Are you carrying around something that is not yours to bear?
Are you trying to be a savior instead of lifting up your loved one to the Savior, the Great Physician?
Do your shoulders ache from taking on responsibility that is not actually yours to carry?
Let's stop, kneel and ask God to help us release that which belongs to Him.
Dear God:
Thank You for the sweet peace that is ours in You. Help us to release all that is weighing us down and holding us back from connecting with You. Thank You that You are Mighty Savior, Great Healer and Faithful Friend. Forgive us for trying to take on things that our shoulders weren't meant to carry. Thank You that no problem is too heavy for You. Thank You that in You freedom, hope, healing and joy are found. Thank You that You tore off the roof of earth to come down and connect us to the Father again. We praise You Jesus. Help us to walk with You each day, as You lead the way Home.
In Jesus' Name,
Amen.
Easy-to-Subscribe: Get all Purposeful Faith blog posts by email – click here.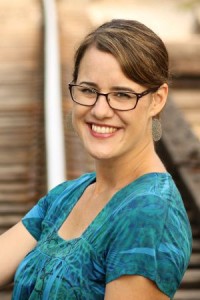 Katie M. Reid is a tightly wound woman, of the recovering perfectionist variety, who fumbles to receive and extend grace in everyday moments. She delights in her hubby, four children (and one on the way) and their life in ministry. Through her writing, singing, speaking and photography she encourages others to find grace in the unraveling of life. Katie is a contributing writer here at Purposeful Faith and also over at God-sized Dreams. Connect with Katie at katiemreid.com