I like to work hard. I figure, the more stuff gets done, the better off I'll be. The more accomplished I'll feel. The more restful I can be later.
Working makes me feel good. Until I read a verse like this:
"Unless the LORD builds the house, those who build it labor in vain. Unless the LORD watches over the city, the watchman stays awake in vain." (Ps. 127:1)
God says:
my work = vanity
my safeguarding = a waste.
My hard-working is often toiling, when done apart from God. I either tire out or I steal glory from God when I believe it's "my doing".
I remember when the disciples returned from a trip. They said, "Hey Jesus, we cast out all kinds of demons. They even obeyed us when we threw out your name. We nailed it out there! We rocked it." (Luke 10:17, kind-of)
Jesus wasn't as enthused. He replies, "Don't rejoice because evil spirits obey you; rejoice because your names are registered as citizens of heaven."
They rejoiced because of their doing.
Jesus wanted them to rejoice because of their belonging.
There's a ravine-sized difference between the two – doing and belonging. One, aims to prove its worth to God. The other aims to enjoy its worth from being with God. One is tiring. The other is refreshing. One is empty. The other is eternal. One is self-oriented, the other is self-giving. One knows where it lives, thinks and derives confidence from: heaven. The other knows where it works, strives and toils from: earth.
Citizens of heaven know the fullness of God is behind them, so they don't have to fully devote themselves to doing things their not called to. They permit the power of God to move in. This changes everything. Because those "who know" they're citizens, like children, let God bring heavenly answers to their earthly problems.
They trust the God of all might to move. And, He does.
Where do you need the God of all might to move? Might you consider seeing yourself as a citizen of the most royal, the most equipped, the most powerful kingdom ever, rather than simply as a worker out in the field of the world? It will change everything.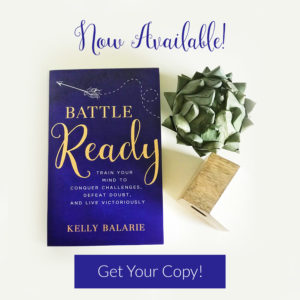 Battle Ready  is a hands-on scriptural plan that teaches you twelve easy-to-implement, confidence-building mind-sets designed to transform your thoughts and, therefore, your life. You'll gain practical wisdom, like how to
· make new habits stick in just five steps
· disarm the seven most common attacks that plague women
· exchange self-limiting thoughts for purpose-driven, love-releasing thoughts
· implement thirty-second mind-lifters that deliver peace
· create boundaries so you live life full of what matters
Get all Purposeful Faith blog posts by email – click here.
Loading InLinkz ...