Post by:Karina
I've been thinking, maybe obsessing, about dreams, purpose and calling. I've been thinking about my present circumstances and where I'd like to see my life in 10, 20  and 50 years. Many times, people have a gift or skill or talent that is obvious. It stands out. It gets them noticed. That's not me. More often than not, I feel completely average. I'm not saying average is a bad thing. I'm just saying that I don't often think I stand out. And that's okay as well.
Over the past year or so, my dear friend Aimee has been speaking over our lives that we have in many ways been placed in a hidden place by the Lord . We have skills and talents and gifts, but we're not necessarily flashy and in the forefront. I'm sure many of you feel the same way.
Over the past several years, I have literally watched friend after…both online and in my everyday life, launch businesses and non-profits. It feels like everyone else's dreams are coming true. I feel left behind.
For me, being in this hidden place has caused me to shrink back from stepping out in faith and taking chances. By nature, I'm not a risk taker, but I want to be more of one. I want to take the risk that trusts God and builds His Kingdom.
Some aspects of calling and purpose have come to mind as it relates to what I can do and the timing of it all.
God works in His own timing.
"And blessed is she who believed that there would be a fulfillment of what was spoken to her from the Lord." Luke 1:45
There are several truths wrapped up in this one verse. It refers to blessing, patience in waiting and fruition. The time of waiting between our now and our future can either make us break us. So much of our character is forged during this time. It is here where we come to know and truly believe the promises that God has spoken to us. It is here where we push past what we can see in the natural and trust that God is working in the unseen.
We are co-laborers with Christ.
"For we are co-workers in God's service; you are God's field, God's building." 1 Corinthians 3:9
We have a part to play in our dreams, calling and purpose. It doesn't all rest on our shoulders. Praise God! But, we have work to do! This is the fun part! We get to embrace who God  has created us to be and follow the leading of the Holy Spirit. Before the foundations of the world, He prepared good works for us to do. And the beauty of that is that He has equipped us uniquely for each of these good works. There is a deep satisfaction in playing a small role in God's great story.
Seek the giver of the dream more than the dream itself.
"But seek first the kingdom of God and His righteousness, and all these things will be added to you." Matthew 6:33
Dreams are great! For the believer, they are God-given and God-sized, but scripture clearly tell us that is God who brings the increase. A man plan's way but it is God who directs our steps. We can strive and hustle and take situations into our own hands. We can speak pretty, persuasive words, but if all of that wasn't birthed in the heart of God, it will all fail.
Only God's plans are guaranteed for success.
He will always bless those plans. We are to seek His heart, His purposes, His truth, His way and His Kingdom. He will take care of the rest.
He will fulfill the desire of our hearts when our desire is for Him.
Cheer on those who are stepping into the fulfillment of their dreams.
"Therefore encourage one another and build one another up, just as you are doing." 1 Thessalonians 5:11
Sometimes I think I have this one under control. Other times, I know I don't. It frustrates me to no end because I am an encourager. God has gifted me with this. It comes so naturally most of the time. Sometimes, I have to work at it. The times where I have to work at it are the times when my friends are getting opportunities that I'd do anything to have. I don't begrudge them, but I would like to have them as well. I easily fall into the scarcity mentality that believes an opportunity for someone is one less opportunity for me. This just simply isn't true. It's a lie from the enemy.
He wants us to be divided and warring against each other. But, the heart of God is for unity and oneness. The best way to combat this battle of comparison is to cheer wildly and pray fervently for one another. We need to believe the best for one another and call out the gold in them.
A win for my sister is a win for me.
A win for me is a win for her.
So no more sideline living for me! I am going to chase hard after my Jesus, confident in who He says that I am and trusting in His goodness. He's got everything else!
Get all Purposeful Faith blog posts by email – click here.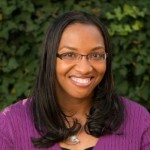 Karina is a devoted follower of Jesus from New Orleans, Louisiana, but has made her home in Baton Rouge for the past 15 years. She spends much of her time leading worship at church, writing, reading, dancing and mentoring the next generation. She has a huge heart for serving and missions. She is an advocate for the local church especially the one that she attends, Healing Place Church. She also enjoys working out, traveling, photography and going to concerts/conferences.
Karina believes that every woman has a God-sized dream on the inside of them and it is up to an encouraging community to help nurture that dream. Her goal in writing is to see women get a revelation of God's Word and discover how to apply it to their lives in order to walk in freedom and live the life that God intended. But the most important thing to her is to live out the call of Isaiah 26:8…For His Name and His Renown are the desire of our souls! You can connect with her at "For His Name and His Renown."