All I wanted him to do was pedal.
I pleaded and coerced, ran behind the bike and offered words of encouragement.
"You can do this. You know how. Just keep going."
But as soon as I let go of the seat, his feet went down. Every time, without fail. And as much as I tried to hide my frustration, I knew it was as obvious as the sweat gleaming on my face.
I wanted him to succeed at this, but I couldn't do it for him.
We put the bike away for a few weeks and he went back to racing his Dodge Viper around the cul-de-sac. Yes, my six-year-old was driving a nicer car than his Mama, complete with a rechargeable battery, radio and gear shift.
Little brother rode shotgun, occasionally grabbing the wheel and crashing the car into the overgrown flowerbed. A loud mixture of laughter and aggravated shouts poured out of the vehicle.
I buried myself in my latest copy of Hello, Darling and told myself the training wheels would come off eventually. He wouldn't start high school with them on, right?
Skimming over the pages, one article grabbed me. The authors, both child psychologists, were talking about fear. Yes, this was what I needed. Some sound advice from those who understood how the mind of a child worked.
Their advice? Tell him it was okay to be afraid. Tell him it was okay, but he had to walk through it.
In the words of my favorite poet, Robert Frost, "The best way out is always through."
Yet so often instead of confronting the fear, we want to run and hide.
I know. I'm an expert, and I'm sure my son's behavior was modeled after his mom, the master hider.
When we hide from our fears we do nothing but fuel them.
When we confront them head on and walk through them, we expose them for what they really are: lies. And the father of lies would like nothing more than for us to live life cowering behind a self-made façade of what-ifs.
"The thief comes only to steal and kill and destroy; I have come that they may have life, and have it to the full." John 10:10 NIV
The following day I sat down with my son and the mid-summer heat.
"Hey buddy, you want to give the bike a try again?"
"No."
He didn't elaborate.
"Why not?"
He paused, considering his answer.
"Because I don't want to fall again," he said in all honesty.
I looked him straight in the eyes and silently prayed my words would sink in.
"Buddy, it's okay to be afraid. But it's not okay not to try."
He stood there, thinking about my words and taking his time. Then he turned on his heels and ran toward the garage, not waiting for me to follow him.
That evening, my son rode his bike without training wheels for the first time. His joy was contagious, and within hours he couldn't even remember why he was scared.
As I stood there watching, God pressed his message on my heart. While fear of the unknown was as certain as the sunset, my response to it didn't have to be.
Sometimes we just have to do it afraid.
Get all Purposeful Faith blog posts by email – click here.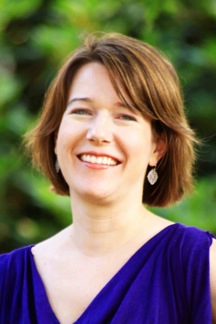 Abby McDonald is a writer who can't contain the lavish love of a God who relentlessly   pursues her, even during her darkest times. When she's not chasing her two little boys around, she loves hiking, photography, and consuming copious amounts of coffee with friends.
Abby would love to connect with you on her blog, Twitter, and Facebook.