I had no idea I was in for one huge scare – and a timely lesson on some key ways to guard your heart – as I walked over to my computer.
I planned to indulge in just a few seconds – of distraction, of indulgence, of entertainment.    But, these seconds ended up being seconds that cost me so much.
My eyes darted around the room for my 1-year-old daughter. She was nowhere to be found. I called her name. Nothing. I furiously looked around the room. Nowhere. My heart skipped a beat. Anxiety welled up in my chest. There are so many things that can happen in just seconds. My mind raced. The possibilities overwhelmed me.
Then I heard it—a thump, thump, thump. My worst nightmare was becoming a reality. Something was happening to my baby. She was falling. I sprinted to the most dangerous spot in the house—our stairs.  There I saw her – crying on the floor. My heart broke.
My distraction led to this infraction. My preoccupation created a situation. My online enjoyment led to her torment.
How often are you finding that what you seek online—pleasure, satisfaction, fun—leads you to a situation of tribulation? What we do in a matter of a few seconds may have long-lasting repercussions. What makes us feel good or accepted can make others feel the exact opposite: denied and rejected. 
As I hugged my crying baby girl, God spoke to the deepest recesses of my heart. It was time I turn away from the internet to think about how I am impacting others. It was time that I look at what my heart is seeking.
"Above all else, guard your heart, for everything you do flows from it" (Proverbs 4:23).
"Put me on trial, LORD, and cross-examine me. Test my motives and my heart" (Psalm 26:2 NLT).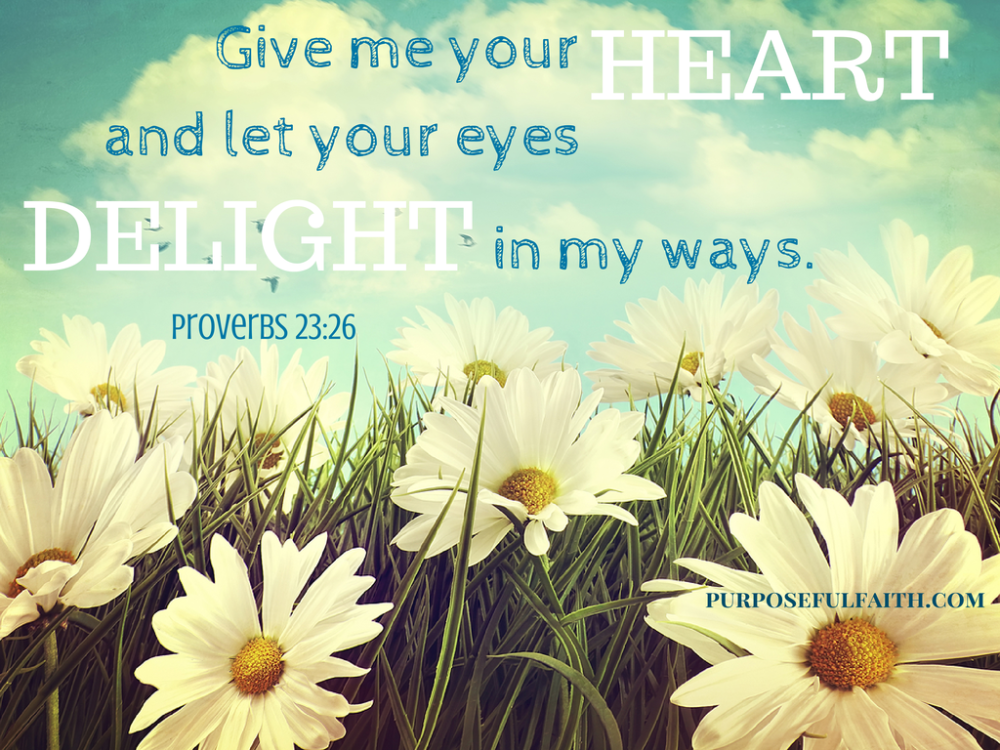 My heart needed testing, and God was faithful to show himself.
HE REVEALED 3 WAYS TO GUARD YOUR HEART:
1. Guard it from a distracted mind. I was distracted from the moments that he had given me to experience and enjoy. I loved to see my daughter's new milestones, but I didn't get to see her climb those stairs. I missed that moment.
When we immerse ourselves in a screen, we miss the in between. 
We miss what God has set before us. We miss his plan and his will. How can we be focused on what he wants when we are focused on what we want? We can't. We miss out on him. And on our family and our future.
Instead, let's be attracted to our King, instead of distracted with a screen.
2. Guard it from seeking excessive amusement. "Entertain me! Delight me! Consume me!" That is what I say so often to my screen. Give me a moment of joy in a world that leaves me feeling so empty. Give me a moment of pleasure in a world that hurts. Give me a laugh when I so often want to cry.
We are missing the point. God doesn't want us to fill our emptiness with amusement. He wants us to fill our emptiness with him. Amusement comes and amusement goes, but God's love remains forever.
When we are constantly filling our mind with "noise", we miss what God wants to say in the "silence".
"For the LORD is good and his love endures forever; his faithfulness continues through all generations." (Psalm 100:5) 
"I will not set before my eyes anything that is worthless. I hate the work of those who fall away; it shall not cling to me." (Psalm 101:3)
3. Guard it from seeking FAME over his name. Read my posts. Like me. Favorite me. Retweet me. See me. Accept me. Do you notice the theme? It is all about me.
 When the focus is on self, we often put God on a shelf.
"LORD, I have heard of your fame; I stand in awe of your deeds, O LORD. Renew them in our day, in our time make them known; in wrath remember mercy" (Habakkuk 3:2).
It is all about God's fame. May we proclaim this fame. God's – the glory, for his story—not ours.
Are you looking online to fill the desires of your heart? God has created you so that you need to rely only on him to fill your every need.
"For he satisfies the thirsty and fills the hungry with good things" (Psalm 107:9 NLT).
Do you believe this? If so, turn to him. Talk to him. Rely on him. Take joy in him. Distract yourself with him. Amuse yourself in him. Seek his fame.
When we are looking for his glory, he presents a beautiful story.  He will be faithful to give you seconds that will serve as priceless memories.
Hold his hand and take a moment – free of distractions – to look in his eyes; his beauty will astound you.