I love Rachel Macy Stafford. I'm her fan – a fan of her heart, a fan of her work and a fan of her authentic pursuit of life. She knows all this. But, what she doesn't know is, I often, desperately need her words. Some days are just too hard – and then I get hard on myself. Some days are just too overwhelming and I lose control. Some days are a punch in the gut; her words bring me back to life. They revive me. This is what her new book, "ONLY LOVE TODAY" is – it is fresh air, new hope and an opportunity to try again. I can't rave about it – or her – enough. I am a fan.
Here is Rachel's Story (Comment and share this post on social media to win her new book, ONLY LOVE TODAY):
"Owning our story and loving ourselves through that process
is the bravest thing that we will ever do." – Brené  Brown
It been almost two years since my friend lost her sister to cancer. She still talks about it—the pain and disbelief, the pressure to move on, the things that help and the things that don't. She talks about the good days and the nearly indescribably bad days.
I listen to everything she offers. I tuck it away for safekeeping. With my friend's help, I'll know a better thing to say when someone hurts. With her help, I have some perspective on inconsequential problems when they're getting more attention than they deserve.
Each time my friend shares her struggles, triumphs, and truths, I am struck with admiration and awe. She never wanted to be an expert on grief, but she is. She never wanted to know what words and actions bring a moment of solace to an aching soul, but she does. This is now my friend's story, and as much as she'd like to deny it, she's chosen to own it—quite bravely and brilliantly, I might add.
I thought of my friend and her unchosen expertise when I had a CT scan shortly after her sister's passing. It was the first time I laid beneath a big scary machine and held my breath for dear life. When the machine began to inch forward slowly, I thought of my friend and her story. I wasn't sure how my story was going to play out, but I decided I would own it. Tell my close friends. Say, "I'm scared," when I felt scared. Ask for help when I was in pain. Above all, I knew it was important to pay attention. So I vowed to take it all in—the good and bad. Perhaps I'd discover something worth sharing in the process.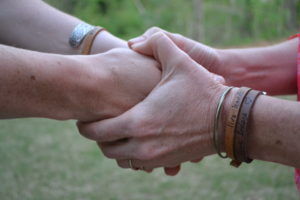 Four weeks after the CT scan that saved my left kidney and possibly my life, I was home from the hospital. I was swollen and sore. I was groggy on pain meds. I was having trouble thinking of words. I was kind of a mess, but I had something I felt must be said. I pulled my laptop computer gingerly onto my lap and typed some words to my friends and family on social media. I remember worrying for a brief moment if there were incomplete sentences, misspelled words, and extra periods. Words were blurry through my grateful, teary eyes, but I pushed 'publish' anyway. Here is an excerpt:
"I am home from the hospital recovering from kidney surgery and feeling incredibly thankful to be here. It's been many months of infection and uncertainty, but I finally have peace. I am on my way to more years, more love, more life. My little public service announcement in the midst of this overwhelming gratitude is this: If you feel like something is not right in your body or mind, please don't dismiss that feeling. Make an appointment today. If you are not satisfied with the answers you get or things do not improve, keep searching. Keep asking. Keep listening. Keep going until you get answers. You are the only one who can truly look after you. And your people need you to be here."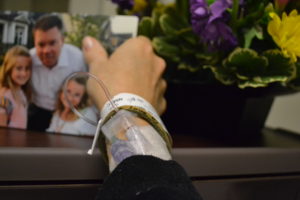 An interesting thing happened. Two of my neighbors contacted me over the next few weeks to tell me those words prompted them to action. One of them made an appointment regarding a persistent pain she'd neglected to look into. Another friend said she'd been worried about her spouse's health and my words were the perfect words to offer him.
I cried.
Through my life's mess, I provided a vital message.
Thank you, God.
In that moment, I felt better than I had in months. The uncertainty and pain I'd endured weren't all for naught. For the first time, I saw my story not a curse, but as a blessing. It was a blessing to be the messenger.
Perhaps you sit here today in a mess you haven't shared yet. Maybe you thought it had to be all figured out before you told someone. Maybe you thought it had to have a happy ending before it could all be revealed. Maybe you thought you had to have perfect punctuation and periods in all the right places for it to be seen. I hope I can help you see your life's mess in a new way. This is what came out in a tiny notebook during my first walk outside after having two surgeries in one month. Perhaps there's something here for you …
Owning Your Story
You never wanted to know how to survive divorce.
You never wanted to know the joys and heartaches of autism.
You never wanted to know the signs of addiction.
But you do.
You never wanted to know rock bottom.
You never wanted to know how to leave an abusive relationship.
You never wanted to know it was possible to bounce back after a financial crisis.
But you do.
You never wanted to know the pain of caring for a parent who doesn't remember you.
You never wanted to be the strong one.
You never wanted to know the car could be a safe place to cry.
But you do.
You never wanted to know a family could break.
You never wanted to know how to put the pieces back together in a new way.
You never wanted to know a new normal.
But you do.
You never wanted to know the perfect response when someone stares at your child.
You never wanted to know the courage it takes to ask for help.
You never wanted to know how to find joy after having lost it for so long.
But you do.
You never wanted to know when it's time to sever the ties in order to have inner peace.
You never wanted to know how hard it is to say yourself, "Change begins today. My loved ones deserve better."
You never wanted to know the weight that can be lifted when you say to yourself, "It wasn't my fault."
But you do. You do.
And perhaps as time has passed you've discovered that to deny your story hurts more than the story itself, so you've chosen to own it.
To speak out, even when your voice shakes.
To tell the truth, even when it's not pretty.
To encourage someone else, even when you can barely encourage yourself.
To get up and face the world, even when you can barely look at yourself in the mirror.
The tears that streak your face at the most inopportune times of the day, at the most inappropriate moments, are the lines of your story. And each time you own it, someone else is not alone in hers or his. Your jumbled mess, whether whispered as a prayer to one or shouted courageously to a room of hundreds, could be the message someone needs right now. Perhaps by sharing our story, pain will ease and hope will find its voice.
You there in your mess: Thank you for being. Your life is a message. And through your story, there is power to save.
Comment and share this post on social media to win Rachel's new book, ONLY LOVE TODAY.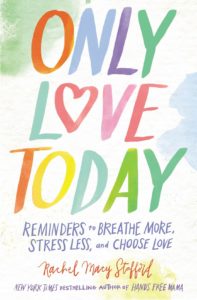 What you just read is a small sample of what you will find in Rachel Macy Stafford's highly anticipated new book, ONLY LOVE TODAY: Reminders to Breathe More, Stress Less, and Choose Love (release date 3/7).
With a unique flip-open, read-anytime/anywhere format, this book is soulful encouragement for busy individuals yearning to anchor themselves in love despite everyday distractions, pressures, and discord.
ONLY LOVE TODAY began as a mantra to overcome her inner bully, but it is now the practice of Rachel Macy Stafford's life. It can be yours too.
Click here to order.
Click here to learn the easy step to receiving your collection of hand-lettered pre-order bonus gifts! #onlylovetoday
Get all the Purposeful Faith blog posts by email – click here.
Loading InLinkz ...