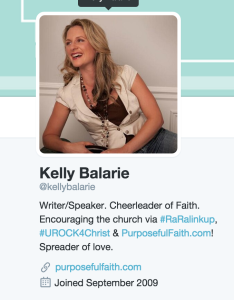 I have to say, "Twitter rocks!" Here are my five best tips to get yourself rolling with big momentum on Twitter…
1. Be visible. It is kind of like when there was that boy you liked in middle school. You made sure to be in front of "him" often, right? The same is true on Twitter. Get in front of your people. Let the Twittersphere – see you!!! Follow people and they will often follow you.
2. Get regular. This does not mean you get to the bathroom often. Nope. It means that you get on to something like Hootsuite and start scheduling your tweets throughout the day. It means that you consider when your readers are most reading and you meet them there regularly (Tweriod). There are a whole bunch of online tools that you can use to do these things. Search them out and start to get together with your followers. They will love you for it!
3. Stay Exclusive. Beware on Twitter. Just as it is with any social media platform, you never know if the someone is the one they say they are. I think it is wise to define boundaries before you start talking and messaging. Consider: Who is your target market and is it worth talking to people outside of that? Remember, limited time, means you have to limit your focus to be effective.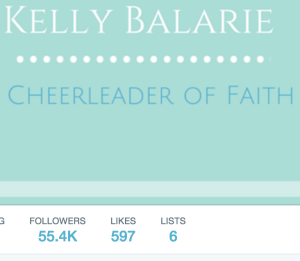 4. Extend cookies. This doesn't mean you get in the kitchen and start baking or you figure out how to track people online (please don't!), this means that you extend a gracious hand to others. It means that you follow, reply, mention, encourage, retweet and comment. People love warm welcomes.
5. Stay short & sweet. Less is always more – and more is when you share the hard truth of your heart. If you stop saying what everyone else is saying, you will make your way to saying something important.
***Bonus: Follow me at @kellybalarie and say hi. I want to practice #4 with you!
Thank you Jami Amerine for featuring me on – Ladder to the Rooftop: A free writers guide to effectively proclaiming the Kingdom!! FYI, friends, this is a great guide for all things writing and social media.
Don't miss all Purposeful Faith blog posts by email – click here. 

You will also get –

 3 Tips to See More of the Lord" as a little gift from me.
4 other things for bloggers:
Join us for the #RaRalinkup every Tuesday on Purposeful Faith. Share your post, get traffic and be encouraged by other bloggers all at the same time.
Be a part of the Cheerleaders for Christ Facebook page. Get on there and soak in all the encouragement and uplifting that is being passed around!
Get my speaking tips & visit Jami Amerine's site for more tips on all things to help you climb this sky-high ladder of "blogging".
Get Katie M. Reid's awesome Instagram tips. They are sure to help.