Post By: Angela Parlin
"It's kinda boring in here, Mom. There's nothing colorful about this place."
She says this a little sassy, from a plain old emergency room bed. She's drawing a picture in her fancy notebook, and watching Liv & Maddie on the corner television. Most importantly, she's breathing slower. She's acting like herself again.
We wait for medications to wear off, and these unplanned hospital hours have me thinking. A Carrie Underwood song I played last week, on the day I turned 40, runs through my head:
"Whenever you remember times gone by,
Remember how we held our heads so high.
When all this world was there for us,
And we believed that we could touch the sky…"
("Whenever You Remember" lyrics)
Time has a way of humbling us, doesn't it?  I no longer believe I could touch the sky. Not like that anyway. I also don't feel 40.
The age we feel on the outside never seems to match the way we feel on the inside.
Do you know what I mean?
When I turned 30, a friend asked me if I felt older. I said I felt about 17. I told my older sister yesterday, now that I'm 40, I feel a good strong 27 inside. Maybe it's only lingering optimism, although it wasn't all pretty then.
On my 27th birthday, I woke, sobbing, with Temporary Insanity. My overdue "little tiny" still had not joined us. I thought I'd be pregnant forever with that one.
Eventually, he arrived, and 27 began this giant growth spurt that is motherhood.
I started questioning my ability and doubting my own strength. Looking back, that's where my real growth began. I wanted to depend fully on God, but something was in the way. Youth, maybe? So I regularly exhausted my own efforts, research, and ideas, and just after that, called on the name of Jesus.
It's funny the way life changes us.
You go from believing you could almost touch the sky–to knowing the limits of your power.
You go from holding your head high, feeling the wind of the world beneath your wings–to bowing down, carried by One who moves like wind or however He chooses.
It's upside-down, but this is where life gets good. Because now you're falling upward. In the corner of your bedroom. In the emergency room. And everywhere in-between.
"My heart beating, my soul breathing,
I found my life when I laid it down.
Upward falling, spirit soaring
I touch the sky when my knees hit the ground."
(Hillsong United, "Touch the Sky" lyrics)
You fall to your knees, like it all depends on the GOD who holds up the sky.
You're singing a new song, because now you really believe.
Are any of you suffering hardships? You should pray. Are any of you happy? You should sing praises. James 5:13, NLT

Get all Purposeful Faith blog posts by email – click here.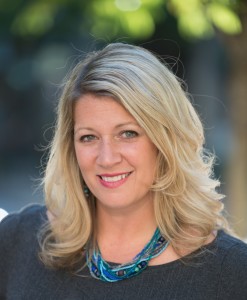 Angela Parlin is Dan's wife and Mom to 3 rowdy boys and 1 sweet girl. From her home in North Carolina, she writes about the Jesus, grace, and motherhood, because there's always "So Much Beauty in All This Chaos." In addition to writing, she spends her days homeschooling, putting meals on the table, and wiping countertops. When she can't be found, she's hiding in the closet, devouring another novel, because stories are her favorite.