Blog Post by Abby McDonald
I'll never forget the sound. It was hundreds of pounds of files and metal crashing down on my three-year-old son but to me it sounded like one thing: disaster.
The impact was followed by the shrill scream of my child. In complete panic I ran from my parents' kitchen to see him lying there with the filing cabinet on top of him.
With strength I didn't know I possessed, I lifted the weight from him, consoled him and examined his body. As I wrapped my arms around him my mind repeated the question, "How did this happen?"
Later, when my family discussed the mishap, my husband explained how our son didn't need to be able to move the entire cabinet on his own. He simply had to put it off balance. Once several drawers came out, it only took a small push to send it toppling over.
So often in life, I am like my son. The drawers are projects, service opportunities and responsibilities, and often I have several pulled out at the same time. My balance gets awry and I need to lighten the load, but instead I take on more.
I put the desire to please others above the gentle nudges from God to rest.
The longer I ignore his promptings the more irritable I become, until I am a frazzled mom and wife with little left to offer anyone other than scraps of time. Like the crashing filing cabinet, I lose all sense of stability. Instead of being intentional with my priorities, I am a mess.
 In Romans, Paul tells us, "Do not conform to the pattern of this world, but be transformed by the renewing of your mind. Then you will be able to test and approve what God's will is- his good, pleasing and perfect will." Romans 12:2 NIV
When I listen to the world instead of that still, small voice, I take on more assignments than I can handle. His love cannot pour out of me because I am a depleted vessel.
God wants to transform our minds so we can discern what he has for us rather than heeding to every tug of those around us. He desires the best for our lives, and is glorified when we use the gifts and abilities he's given us. Often, this means declining requests for our time so we can spend it where the he wants us to be.
To this people pleaser, the hardest word to tell others is "no." But often this is the exact word God is asking me to say.
After watching my son over the next day, we were confident he was alright. I uttered praises for God's protection in a moment which could have been devastating.
The beautiful truth is that those moments when life is reeling and we lose our balance, God can still redeem our time. When we listen to his voice instead of the world's, he can turn our mistakes into testimonies of his grace.
Get all Purposeful Faith blog posts by email – click here.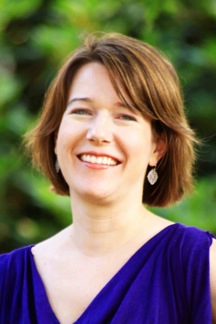 Abby McDonald is a writer who can't contain the lavish love of a God who relentlessly pursues her, even during her darkest times. When she's not chasing her two little boys around, she loves hiking, photography, and consuming copious amounts of coffee with friends.
Abby would love to connect with you on her blog, Twitter, and Facebook.