Post by Christy Mobley
"The virgin will conceive and give birth to a son, and they will call him Immanuel, God with us." Matthew 1:23
It was the week before Christmas and I was feeling the stress, instead of Christmas, I felt more like Chris-mess.
Yes, I was knee-deep in wrapping paper strewn clear across the floor, with boxes and ribbons and bows and more.
It looked like the world's kind of Christmas to me and less like the one I thought Christmas should be.
You might say I was bah-hum-bug at this time of year, all I really wanted was to feel God was near…
It was early Saturday morning and I was already stressed. It didn't help that I neglected my time alone with God. Somehow on this day, my to-do-list which was already a mile long, got a VIP slot on  my morning schedule. I had people to shop for, a party to plan, and for sanity's sake, I needed to clean up the ginormous mess on the floor where I had been wrapping gifts the night before.  And, I knew if I got organized I might even find those pesky scissors I was sure were hiding somewhere beneath that pile of gift wrap and tangled ribbon!
The whistle on my phone, alerting me to a text, momentarily distracted me from the tasks at hand.
The text was from a new friend. I say new, because Sheri had started visiting  our life group at church a few months ago. As a group we had been praying for her mother who had been in and out of the hospital for cancer treatments. Other than church, we didn't communicate.
But recently that all changed. She started sending  me texts to keep me up-to-date on her mom's progress, and in the back and forth we forged a friendship.
On this particular morning she texted me to let me know her mom had taken a turn for the worse. I had never felt prompted to visit Sheri before,  but when I read the text that Saturday, I heard God whisper into my heart, "Go. Go be with her now".
Though, I instinctively knew this whisper was from God, I have to admit I texted Sheri back, asking which hospital her mom was in, half hoping it would be on the other side of the universe so I'd have an excuse to get back to my mile long to-do-list which didn't include a hospital visit.
However, as God would have it, Sheri was close by. Little did I know, God would have my new friend change my Christmas from stressed to a Christmas blessed.
I rallied my husband and off we went.  We arrived at the hospital room just as another couple were leaving. I was relieved to see Sheri was not alone. We visited for a while, and before we left, David and I prayed for her and her sweet mama. Sheri seemed at peace, and I was glad I had put my to-do-list aside for a while.
Later that afternoon, I heard from Sheri again, this time her text gave me goose bumps.
It read:
"Thank you for coming to the hospital….cool story. Early in the morning, about 1:30, the nurse tried to reposition my mom.  It was heartbreaking to see her in so much pain.  I left and went to the hospital chapel to pray.
I got on my knees and prayed for my mom, and I prayed for God to please not leave me alone. I feared the dark abyss I fell into after my divorce.  I slept for about two hours from 2:00-4:00 and was awakened by an audible voice saying, 'I am here'.
I looked around, but no one was there. I wasn't dreaming, I knew what I heard.
About 7:00 a.m. a friend responded to a Facebook post and asked if she could come to the hospital. Then one of my old neighbors came by, then you and David. Later, my friend Harrison from NY called, and then Diane.
My heart was full. It was God, He heard my prayer and didn't leave me to be alone.
God was near. God was here.
For the 400 years prior to the birth of Christ, God was silent. His people didn't hear from Him. They felt alone.  Galatians 4:4 says, " … when the set time had fully come, God sent his Son…"  and Matthew 2:3 says that his son "….will be called Immanuel, God with us."  God sent His son, at just the right time, to be with us so that we would never have to be alone again.
God heard Sheri and was there for her.
He heard my longing and was there for me.
In allowing me to take part in this Saturday morning miracle, He brought the real reason back into this Christmas season and changed my Christmas mess to a  Christmas blessed.
At just the right time He blessed us with the gift of His presence.
Immanuel, God is with us.
Christmas is not about tinsel and bows, it's about God sending Jesus to earth's humble abode.
He came so we'd never again be alone. He came so we could one day call  heaven our home.
 Merry Christmas friends!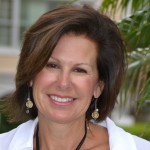 Christy is a wife, mother, writer, mentor, and Life Purpose Coach. She is passionate about encouraging women to move forward, and press on through their struggles, seeking God's presence in every bump and turn in the road. If you would like to connect with Christy you can find her at www.christymobley.com
***Get blog posts via email for a chance to win an Amazon Gift Card. Click here!