Post By: Angela Parlin
My last semester of college, I moved to North Carolina for an internship at a giant computer corporation.
I hated to leave school early, but they offered me a chance to work into my first real job, and I couldn't pass it up. Just before I moved, my boyfriend proposed, and we decided to get married less than 6 months later. Just after college graduation. It was an exciting time, to say the least.
So I transitioned into a new job, and moved into what would become our first apartment. I learned our new city and made some new friends. And after setting up our apartment with just the basics, I laid out pieces of wedding paraphernalia on the nightstand beside my bed. It was a daily reminder of my new life to come, the life I was eagerly waiting for.
Do you remember a time when you longed for something new, just around the bend?
I studied a verse earlier this week, and it reminded me of this anticipation.
"So Christ, having been offered once to bear the sins of many, will appear a second time, not to deal with sin but to save those who are eagerly waiting for Him." Hebrews 9:28, ESV
Let's talk about that last phrase for a minute. To save those who are EAGERLY WAITING for Him.
Jesus will come again, not to deal with sin but to save those who are eagerly waiting for Him.
I have a question for you, and it's probably going to hurt a little. But I hope it brings you to a better place, and a new perspective.
Are you eagerly waiting for Jesus?
He is coming to save those who are eagerly waiting for Him. But there's just one problem.
We love the world instead.
We are eagerly waiting for all our dreams to come true in this life. We are waiting, for everything we love right here—for the work and accomplishments and people and events and promotions and possessions and all the plans we desire for our families, for our lives. Right here.
I hate to admit it, but my desires and dreams for this life compete with my desire for Jesus.
I've been involved in a love affair with this world, and it has prevented me from waiting eagerly for Jesus to come again. But the Holy Spirit used this passage to make me aware, and to lead me to repentance. There's no better place to be, because repentance brings refreshment.
"Repent, then, and turn to God, so that your sins may be wiped out, that times of refreshing may come from the Lord." Acts 3:19
I don't want to be waiting on all the amazing possibilities of this world.
I want to be waiting for the King of the world.
Let's hope He finds us waiting for a new life to come. Waiting eagerly for Jesus.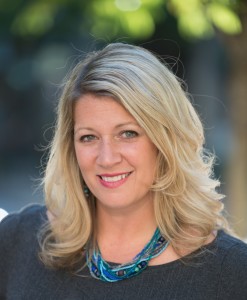 Angela Parlin is a wife and mom to 3 rowdy boys and 1 sweet girl. In addition to spending time with friends and family, she loves to read and write, spend days at the beach, watch romantic comedies, and organize closets. But most of all, she loves Jesus and writes to call attention to the beauty of life in Christ, even when that life collaborates with chaos. Join her at www.angelaparlin.com, So Much Beauty In All This Chaos.