Sometimes I feed my children an improper view of God.
I'm embarrassed to admit this, but let me explain what I mean.
My (tween) boys love to play Minecraft on the desktop computer in our office-turned-schoolroom. Our oldest takes an online course which teaches him to code Java, and the class uses Minecraft as the platform to teach advanced coding.
So of course, he and his brother need to play in the worlds he creates, to see that it all comes together the way he planned.
I'm good with that. But only if they play by the rules.
In our house, the rule for using any kind of computer or video screen is–Ask First. Because there are a number of important things (like schoolwork) that must be done first. Not only that, but I've read too many articles about screen-time turning young minds to mush, and so I limit their time. About this, my boys are thrilled.  🙂
Evenso, the temptation is strong for them, to turn on the computer and click on the little Minecraft icon.
Sometimes I find them playing without permission, so I created a password for them to type in each time they turn on the computer.
The password I created? GOD-SEES.
Just a little reminder.
Just a harmless little reminder. Right? But no.
Recently, I read Psalm 32:8 on a friend's blog, and it left me thinking about my snappy little password.
I will instruct you and teach you in the way you should go;
I will counsel you with my loving eye on you.
What am I really saying to them when I'm saying God Sees?
I realized that my point was not that His loving eye was upon them.
I wasn't exactly trying to say God will guide you because He loves you and desires the very best for you.
I realized I was feeding them the idea that the Lord is just watching for them to make a mistake. That He's present where they play, but He's waiting to zap them with a punishment, the way Mom sometimes assigns an extra chore or gives them sentences to write when they disobey.
But I was wrong. I don't want my kids to believe God is just watching in order to punish them.
I want them to remember God's loving eye is on them,
to guide them toward choices that are best for them.
I want them to understand He desires to lead them toward freedom and success, not always in the way we define success, but His way.
I want them to know His eye on them is the gift of His presence–at all times, in every place. That He wants to know them all the way down to their hearts, because of the depths of His love for them.
I also want them to want to know the Lord–to look into His heart and see who He really is.
My mistake led to an important conversation between my boys and me, and God used it to lead all of us back to the truth. I changed the computer password to what I really wanted to remind them to do in the first place–AskMom1st.
I hope we'll never forget that God Sees—but that we'll remember God sees all of us with His loving eyes.
Get all Purposeful Faith blog posts by email – click here.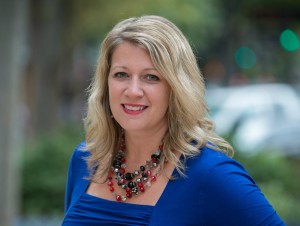 Angela Parlin is a wife and mom to 3 rowdy boys and 1 sweet girl. In addition to spending time with friends and family, she loves to read and write, spend days at the beach, watch romantic comedies, and organize closets. But most of all, she loves Jesus and writes to call attention to the beauty of life in Christ, even when that life collaborates with chaos. Join her at www.angelaparlin.com, So Much Beauty In All This Chaos.