I sulked. I whined. I cried. My knee hurt.
Ever noticed when things feel bad,
the whole world turns bad in the blink of an eye?
I will not like the school my kids will attend.
My summer will amount to boredom.
My future book will go bust.
My efforts will not succeed.
People are going to laugh at me.
I will never laugh again.
Ever noticed, after you think badly, you think God hates you badly?
Negativity makes you fall further….
God doesn't bless people who wallow.
He doesn't help those who can't help themselves.
He doesn't want a sour puss like me.
He gets angry when I can't dwell on truth.
He has distance reserved for me, because I am distant…I figure.
Are you heading down, down, down too? Thinking of all you aren't, don't have and will never get?
Half of me is tired of feeling tired. The other half is ready to pull out some fighting gloves to get positive again. Care to join me?
3 Ways to Embrace Positivity
1. Acknowledge you are feeling down. Let God grab that feeling and hold it. Know that he doesn't get all red-faced, hot and bothered about it. He doesn't steep with hot air when he thinks of you. Instead, he looks at your trial with tenderness. He cares.
The LORD is close to the brokenhearted and saves those who are crushed in spirit. Ps. 34:18
2. Confess & return to His presence.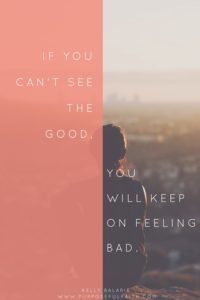 The past is in the past. With this, there is no reason to wad your bad rap sheet and to stuff it in your pocket. Christ doesn't require you to carry it around. Simply, say I am sorry, really mean it – and throw it out.
So if you who are evil know how to give good gifts to your children, how much more will your Father in heaven give the Holy Spirit to those who ask Him! Lu. 11:13
3. See faith in all things.
If you believe in what a good God can do, rather than what you can't do – just imagine what he could do – through you. This is faith.  Consider it a weapon for worriers. Something we can pull out, stand tall in and believe in.
We can pull it out and say:
This kingdom may look against me, but God is for me.
Justice on earth may seem impossible, but God will be just.
Promises seem far away, but God's Word is as good as gold.
Lions want to snap my head off, but God can keep their mouth shut with a blink of his eye.
"For time would fail me to tell of Gideon, Barak, Samson, Jephthah, of David and Samuel and the prophets—Who through faith conquered kingdoms, enforced justice, obtained promises, stopped the mouths of lions." Hebrews 11:32-33
We can conquer kingdoms, no matter our size. We can uphold justice, even if we are a stay-at-home mom. We can obtain promises, despite our continual failings. We can stop the mouths of lions, who may look like teenage boys with ferocious appetites and foul-sounding speech. Who knows what we can do – if only we believe.
With God, all things are possible.
Get all Purposeful Faith blog posts by email – click here.