Do you miss it?
It is right before your eyes.
Waiting for your astonishment…
It is God showing off.
If you are head down in iPhone…you won't see it.
If you are worrying your pants off about what is to come…you won't see it.
If you are yelling to that person next to you in traffic…you won't see it.
If you are looking at what everyone else is wearing…you won't see it.
If you are more concerned with your ways than his…you won't see it.
Not because he doesn't care for you, because he absolutely does.
Not because you aren't his loved son or daughter, which you hopefully are.
Not because he is angry at you, because he is not, he just waiting for you to run back to him in repentance.
You won't see, because you don't allow yourself to see.
You will seek me and find me when you seek me with all your heart. Jer. 29:13 
Eyes that are looking for God, find him. Eyes that are distracted, miss him.
Last night, my son ran into my room with a mid-night dream he wanted to share. I hushed him up and pushed him back to his bed, deathly afraid I would turn into a walking-zombie mother the next day from lack of sleep. Success! He returned to bed.
Until, he came back. He woke me again, but this time I hugged him. I loved on him as Christ might. I enjoyed the quietness of the moment. Then, I looked out the window…and saw it. Bright as day, as close as the breath of my own child, as bold as a phone call in the middle of the night – it stood. It was the moon, except for one thing…this moon's rays shined only two ways – horizontal above the earth, and vertical – ground to heaven.
This moon was emitting rays in the shape – of a cross.  A cross that owned the world.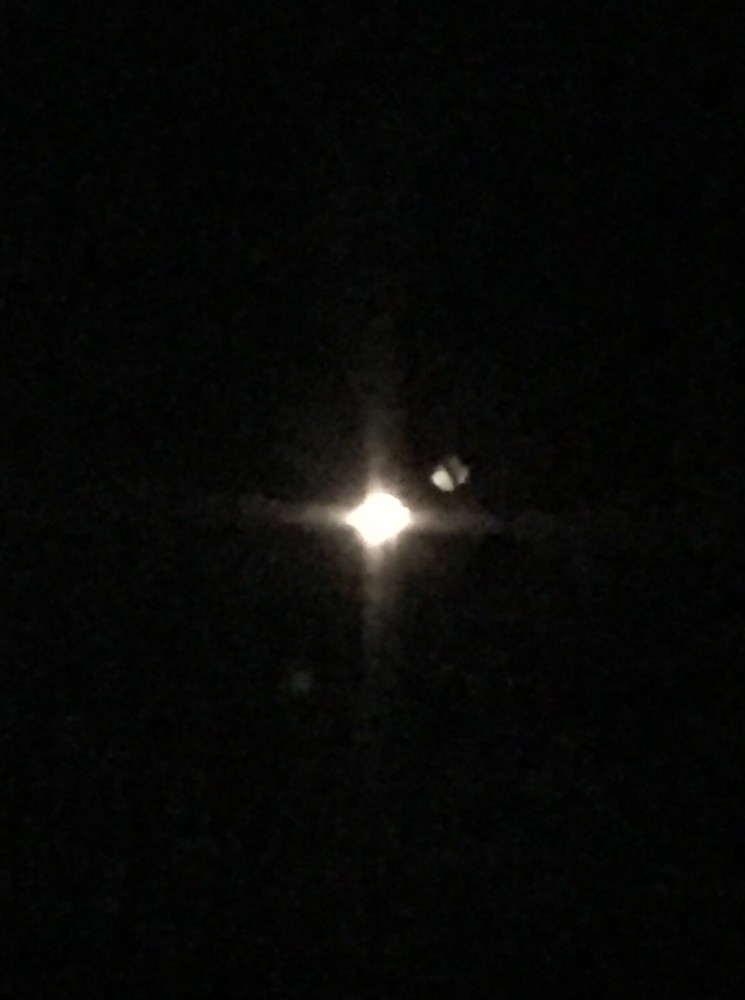 (This picture does the cross no justice, because its rays extended far and wide, long and distanced, crisp and sword-like, prominent and powerful. They went straight down to the ground and straight up to the sky…it was gigantic and breathtaking.)
This moon declared Jesus' victory over the plains of the fearful and the plans of evil.
It proclaimed the earth as belonging to God.
It blazed like a victory flag over our mayhem-ridden land.
It shined eternal sovereignty, which will never, ever, fade.
It confirmed it can't beat the the sacrifice that will always endure.
It magnified Jesus' ability and desire to cleanse the world of all pain, agony and hatred.
But, what if I had missed it?
What if instead of stopping to let my eyes adjust to the light of God outside,
I let sleep lure me inside?
Awaken! God is all around, but when our eyes look down, we miss the exact places where he is found.
Let all the earth fear the LORD; Let all the inhabitants of the world stand in awe of Him. Ps. 33:8
If we stop in the middle of rush, we will see – that it is us that God wants to touch.
If we look for wonder, we will find ourself wondering how we have such a great God.
If we pray to see, God will open our eyes up wider than they are after our third drink of coffee.
God waits to awe our socks off!
Nature testifies to the natural goodness of God. It is the present testament declaring both testaments of our living King. It confirms his majesty, administration and intentions.
For since the creation of the world God's invisible qualities–his eternal power and divine nature–have been clearly seen, being understood from what has been made, so that people are without excuse. Ro. 1:20
If you only see the white noise hum of "bore" before you – you'll miss the "tremendously more" that God has – for you.
Worship the LORD with reverence and rejoice with trembling. Ps. 2:11
Easy Subscribe! Get all Purposeful Faith blog posts by email – click here.