Blog Post by Abby McDonald
On a cool afternoon in late fall, I mow straight lines across our long expanse of lawn. I'm surprised by how much I enjoy it.
I see the neat rows of freshly cut grass growing with each trip across the yard. It is obvious when I miss a spot. As the strips freshly manicured section gets increasingly larger, I view my work with satisfaction.
Why do I enjoy this so much? It's simple, really. For one, I get some quiet time of reflection without listening to kids bicker or ask me for snacks every five minutes. But second and perhaps more importantly, I see visible results.
I know when I haven't done the job well because the results speak for themselves.
Other roles in my life are not this simple. They are complicated, and often leave me wondering whether I'm making an imprint.
I explain a complex subject to my six-year-old, but I'm not sure he understands. My husband and I make efforts to instill strong morals and character into our boys, but there are days when it seems as though everything we've been striving towards is falling apart.
On a bitter cold morning, I attempt to capture thoughts that go deep into the core of me on the page, but can't quite grasp them. The cursor blinks mockingly and self-doubt creeps in before I'm able to type a single word. I wonder if I'm wasting my time.
I wonder if what I say resonates with anyone.
I see a pile of laundry looming in the corner and think, "Didn't I just tackle that yesterday?" Before the day has even begun, thoughts of defeat overtake me.
Then, as God often does, he sends a reminder that strikes just the right chord. I realize my current state is temporary, but so much of me longs for the eternal.
My yearning for results often reflects a glory which will not be realized in this lifetime, but in the next.
But we have this treasure in jars of clay to show that this all-surpassing power is from God and not from us. 2 Corinthians 4:7 NIV
I am a planter of seed. I am a light in a temporary casting. I am a mere reflection of the One whose glory I will behold. A glory I long for so deeply at times it aches.
So often, I believe we become discouraged because it seems as though we are moving in circles. Saying the same things to our loved ones and kids over and over. Teaching the same lessons.
But friends, the truth is always worth repeating. People forget because it is their nature. We are still living in a flesh that continually pulls us away from what is true, what is eternal, what is lasting.
We continue to fight because the fight is worth it, even if we don't see the result right away or even if this lifetime. We fight because we are more than conquerors through him who loved us first.
We long for that which we cannot see because of Him in whose image we were created.
Do not give up. Do not lose heart. You were made for more than anything this world has to offer.
As you lay your head on the pillow tonight, ask yourself this: Did I love? Did I open my arms in grace? Did I help someone who needed it?
If the answer to any one of those questions was yes, it was not in vain. Keep pressing forward, dear one. Your reward will be great.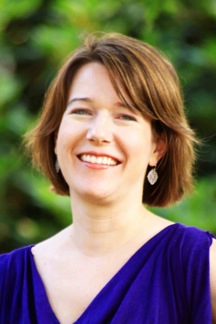 Abby McDonald is mom, wife and southern girl who fell in love with writing at a young age. She started Fearfully Made Mom because she felt God gently pushing her to share her writing with others who may feel alone in their struggles with self-doubt, accepting God's grace, and finding their identity in Christ. Her desire is to show women they are fearfully and wonderfully made by a God who will relentlessly pursue them, even during their darkest times.
When she's not chasing her two little boys around, Abby enjoys hiking, photography, reading, and consuming copious amounts of coffee with friends.
Abby would love to connect with you on her blog, Twitter, Facebook, and Pinterest.
 ***Don't miss Kelly Balarie & Friends blog updates by email. Subscribe here (plus, as a Christmas gift, get the chance to win an Amazon Gift Card).