Post By: Katie M. Reid
We used to live and work at a Bible Camp. The camp director often challenged the campers to move from being takers to being givers. He explained that it was a sign of maturity to focus on giving instead of getting.
"…It is more blessed to give than receive." -Acts 20:35b
Times are tough right now.
People are hurting, grieving, accusing, and fighting. People are taking jabs at one another in light of the pain they are feeling. People are pointing fingers and striving to be heard above the roar. Some are spitting out venom, in hate. Some are even using fists to crush.
I'm afraid we are a sorry bunch as we walk around bruised, mocked, and wounded.
Yet, I have hope. I have hope that the Spirit of God who resides within us will lead the way through the gray.
We have the holy honor to give instead of take.
May we offer empathy as the hurting gather near.
As we pass the mashed potatoes, may we dish out compassion. As we fill up glasses, may we pour out refreshing words. As we look into the eyes of those around the table, may we focus on what we already have—not what we lack. As we partake of what's been given, may we express thanksgiving for the sacrifice (of family, of employers, of military, of leaders).
As we gather around the table, may we remember that table spread all those years ago—the bread torn, the wine poured. The Body broken, the Blood spilled—that we might receive the very thing we lacked; salvation.
I'm afraid we have forgotten to be thankful for the One who was bruised, mocked and killed on our behalf. 
Jesus stood silently before the angry crowd. He heard their false accusations yet He forgave them still.
Jesus demonstrated great restraint in order to extend a Greater Love.
He is Hope. May we offer Him our life.
May we follow in His steps…
As we pass the marginalized, may we hand out compassion. As we fill our social media feeds, may we pour out refreshing words. As we look into the eyes of those with whom we disagree, may we focus on what what we share—not where we differ. As we partake of His grace, may we express thanksgiving for the sacrifice of our Savior.
Let's remember the Ultimate Giver—of life, of salvation, of hope. Our sin separated us from God yet Jesus came to bridge the gap. We can be restored through Christ's Ultimate Sacrifice, if we believe and receive.
Let's build a bridge, instead of a wedge—not through compromise of the Word, but by following Jesus' example to love others—even when it's not reciprocated.
Let's give thanks for life, and breath, and everything else. Let's take time to pray for the restoration of this upside down place we find ourselves, in this season.
The give and take of Thanksgiving has never been more needed than it is today. Let's bow, let's bend, let's stay grounded in the Word. Let's give love. And let's take note that Jesus does not change and that perfect Love casts out fear.
The Perfect One is here. The Unchanging One is near. Jesus has taken our sin, this we believe. He has given us salvation, this we receive. It is done. King Jesus has won!
God will turn the upside down, right side up. He can heal the hurt. He can set the captives free. He can draw all men to Himself. He can do anything.
And so, we have hope!
We give praise that He is able. We take stock of His good and precious promises. We give up the right to control. We take up the sword of the Spirit. We lay down our pride. We put on the armor of Love.
We gather around the table and we offer Grace.
It's Good News, after all.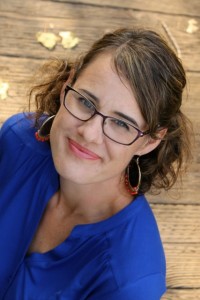 Katie M. Reid is a writer and speaker who encourages others to find grace in the unraveling of life. She also inspires women to embrace their identity in Christ and live out their God-given purpose. Katie delights in her hubby, five children, and their life in ministry. Cut-to-the-chase conversation over hot or iced tea is one of her favorite things.
Connect with Katie at katiemreid.com and on Twitter and Facebook.
Save
Save