Blog Post by Abby McDonald
I poked at the fire, frustrated that it wouldn't stay aflame. This girl was no scout. The temperatures outside had reached single digits, and our furnace was having a hard time keeping up.
After spending an hour trying different techniques, adding wood, scraps of paper, and using more fire starters than any person should, the flame blazed hot enough for the wood stove's fan to cut on, circulating the heat throughout the house. My mouth spread into a victorious smile.
The problem was, I didn't know what I'd done right.
Later, after my husband returned from a business trip, he explained the basics of fire building to this city girl. I listened intently, determined not to have the predicament repeat itself.
Even my son, the cub scout, knew the basics of fire 101. I guess I should have asked him, right?
As any seasoned camper may know, fires need three basic components: heat, fuel, and oxygen.
It turns out, I had given my fire plenty of heat and fuel, but I'd neglected oxygen almost altogether. Instead of giving my flame room to breath by spreading the wood in a triangular shape, I'd smothered it.
Fires need room to breathe. And much like the flame I'd suffocated with its own fuel, I often adapt the same pattern in my spiritual life.
I know my heat comes from the Holy Spirit living inside me. I feed the flame with his Word and plenty of good reading material, podcasts and worship.
I gather with other believers. I lead and serve.
But often, I don't allow space to breathe. To digest what he's teaching me. To sit in his presence and be still with no agenda, no checklist or index of requests I need to present.
While we fixate on the lines of our life story, God often speaks in the margins.
In the spaces in-between the carpools, the play dates and the prayer meetings. In the moments where we slow down, we sit and we wait. Because the voice of God is always worth waiting for.
"Be still, and know that I am God;
I will be exalted among the nations,
I will be exalted in the earth."
Psalm 46:10 NIV
So instead of piling more stuff onto my never-ending to-do list, I'm carving out time to listen. Even if it starts with fifteen minutes before my kids roll out of bed, it will be worth it.
I'm creating a space to not simply read the Word, but hear from the Word.
Have you stacked too many scraps on your fire, suffocating it so it has no room to breathe? Have you placed a list of chores on the altar of life, forgetting what God wants most is our hearts?
I have. I am guilty. But thanks be to God, his mercies are new every morning.
It is never to late to realign our priorities, to make a change or create a new beginning. Today is the day.
Fan the flame.
Get all Purposeful Faith blog posts by email – click here.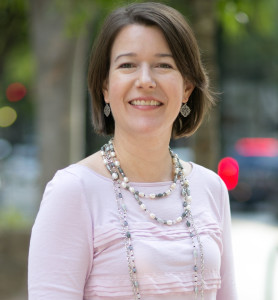 Abby McDonald is a writer who can't contain the lavish love of a God who relentlessly pursues her, even during her darkest times. When she's not chasing her two little boys around, she loves hiking, photography, and consuming copious amounts of coffee with friends.
Abby would love to connect with you on her blog, Twitter, and Facebook.